Who is Robert Levy? A BHS Student Profiles an Important Relative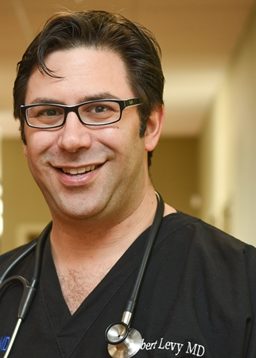 Editor's Note: The following story comes from a "family interview" series in Journalism.
Robert Levy is an ER doctor and business owner in New York. He is a major go-getter with numerous successes and an array of accomplishments. He is an incredibly hard-worker with ideals that center around family, friends, work, and of course, FUN. As the News Editor for The Eagle's Cry and as Robert (Rob) Levy's niece, conducting an interview was the only way to capture some of the most prevalent parts of his life story. I wanted to ask questions about his career and business adventures because his experiences in those parts of his life inspire me. So without further ado, I introduce to you…my Uncle Rob. 
The Eagle's Cry: Where did you go to college and medical school?
Robert Levy:  "I went to College at Binghamton University. I went to Medical School at SUNY Upstate Medical University in Syracuse, New York."
The Eagle's Cry: When did you first start working in hospitals? 
Robert Levy: "I started working in hospitals during medical school and officially earned the title— doctor, immediately after graduation. I still continue to work as an ER doctor, but now I manage and maintain two businesses that I own."
The Eagle's Cry: Why did you decide to go to medical school?
Robert Levy: "I liked science and people, so I wanted to combine those interests."
The Eagle's Cry: During your gap year between the third and fourth year of medical school, what did you do? 
Robert Levy: "I worked in politics in Washington DC. Specifically, I worked as the Legislative Director for a national medical student organization."
The Eagle's Cry: How do you think that experience helped you later on? 
Robert Levy: "It taught me how policy change can be accomplished and how to put together groups of people who want to seek change."
The Eagle's Cry: Did you ever want to be anything other than a doctor?
Robert Levy: "Absolutely, I wanted to be an astronaut. Later in life, I applied to be an astronaut but I had already started working in the medical field. I thought about being an engineer but was steered away from that by others. Briefly, I thought about architecture. I would have been a race car driver if I had the opportunity."
The Eagle's Cry: What is the hardest part of being an ER doctor?
Robert Levy: "To be honest the answer to that question has changed over time. Currently, the hardest part is that hospitals are understaffed, making working with families and patients more difficult. Overall, the hardest part is that anything and everything can come through the Emergency Room doors. Whereas, specific doctors have specific jobs to do, an ER doctor needs to be able to handle and grasp any situation that arises."
One of Robert Levy's businesses is the ownership of AFC Urgent Care facilities across Long Island, New York. He has built the business from scratch and continues working to improve its outreach to patients in need. 
The Eagle's Cry: What is the most challenging part of running AFC Urgent Care facilities?
Robert Levy: "Running a business is very different from treating patients. Learning the skill sets required to be successful in business was challenging because I had never gone to school for business or worked in a business outside a hospital."
The Eagle's Cry: What is the most rewarding part of your job?
Robert Levy: "The most rewarding part of being an ER doctor is having a positive impact on patients and their families when they are having a very difficult time."
"Opening AFC Urgent Care facilities allows me to explore the business world and solve problems."
The Eagle's Cry: What led you to start working in the Residential Construction Business more recently?
Robert Levy: "I started doing realistic investing and I became heavily involved in the design and construction work for some of those investments. I realized I enjoyed it a lot, so I started a construction company to further develop my interests in the field."
The Eagle's Cry: What are some of your greatest accomplishments?
Robert Levy: "My greatest accomplishments include: Learning how to save lives, starting businesses from scratch, and influencing society around me."
The Eagle's Cry: What is a goal you wish to accomplish within the next year?
Robert Levy: "I would like to expand both of my businesses." (AFC Urgent Care and Residential Construction Business)
The Eagle's Cry: What is your best professional advice for others?
Robert Levy: "It's very simple: Identify and pursue your dreams. With the emphasis on pursue, because honestly, most people don't do that, which leads to regrets later on. I have accomplished some of my dreams and I am still pursuing others."