An Insight into the College Scholarship Application Process at BHS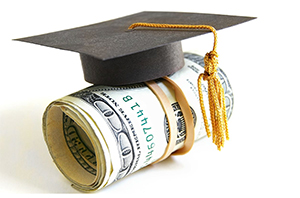 As 2023 begins, the senior class is finishing up the college application process. However, one question still looms over the heads of many applicants: how does a BHS senior apply for scholarships? 
You might assume that this is something you would learn to overcome in Senior Seminar—a class offered by BHS to aid students in the application process. Unfortunately, scholarships are a topic scarcely mentioned in the classroom.
So, where do you start? A quick Google search and you'll be faced with hundreds of links to confusing and somewhat sketchy-looking websites. Scroll down the page and you'll for some reason find a link to St. John's University. Are all these links legitimate? Let's find out. 
The Eagle's Cry decided to turn to the BHS Guidance Department for some much-needed guidance. Mrs. Payne was kind enough to sit with the editorial staff and answer some common questions regarding scholarships. 
To the surprise of our staff, students don't need to blindly search for scholarships on Google. In fact, when you visit the Bethpage Community Website under the "counseling center" tab, click on "financial aid and scholarships," and you'll be faced with an entire list of daily-updated, legitimate scholarships that you can apply for all the way up until you go to school! 
After managing to meander your way into the "financial aid and scholarship" section of the BHS webpage, click any of the links and begin your search. The process is much like the process of searching for colleges in Naviance, the only difference is the goal: earning scholarships. Once you fill out any of the forms on the given websites, a list of scholarships that you are eligible for will pop up. 
There are different criteria for each and every scholarship, so you can't apply for all of them, but you can surely apply for any and all that "fit" you. There is no limit to the number of scholarships you can apply for and you can apply whenever you want. 
There are even scholarships offered by the Bethpage Community itself. These tend to take place later in the school year, during spring. All you have to do is complete an essay for the application and you're set. 
Additionally, some unions offer scholarships, so if you have a parent or guardian that is a part of a union through their field of work, there are even more opportunities.
Once you have applied for and received scholarships, it is your responsibility to inform the school that you are attending of your earnings. This is all done through the financial aid office of the school of your choice. You simply email—or call—the school's financial aid office and let them know what kind of scholarship you received, where from, and how much money it encompasses.  
You are automatically screened for scholarships when you fill out FAFSA and once you apply to a school, but it doesn't hurt to email the financial aid offices of colleges to ask about any more possible scholarships that you may qualify for. 
So, there's no need for aimless scrolling through the internet. Instead, take advantage of the BHS website and utilize every opportunity you are presented.