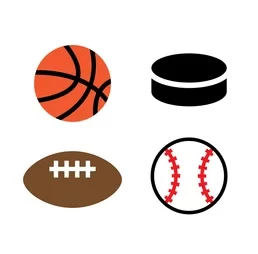 Have you ever watched a sports game?
I'm sure you have, but I have a different game for you. 
Here are three different players of three different sports with all something in common: all you need to do is to try to guess the commonality.
First, Ray is a 29-year-old shortstop. Ray is happily married to a girl named Kathleen. In his free time, he likes telling stories to friends and family and even plays the piano. Ray also leads a famous baseball league in putouts for two seasons and assists for a season.
Second, Chuck—28-year-old—wide receiver who enjoys playing football. He grew up in Philadelphia and has 12 siblings. Chuck went to school at the University of Texas at El Paso where he gained the most all-purpose yards in a single game. Chuck also likes to play golf in his free time. He's married to Sharon and has an almost 2 year old son. 
Lastly, Adam—a 29-year-old hockey player—has played in many hockey leagues. He grew up in Minnesota. Now he lives in Sheffield, England with his fiancée, Ryan and they are planning their wedding soon.  Adam is in 2nd place for all goal-scoring in a very popular hockey league's season. While he was originally undrafted in the NHL, he got pulled up and played a few NHL games with the Pittsburgh Penguins.
Besides being athletes with other hobbies, what else makes them similar?
Take a guess.
They all were athletes who passed away during or shortly after a game. 
Ray Chapman, at the age of 29, took an aggressive pitch to his helmetless head on August 16th, 1920. He remains the only player to die during an MLB game—ever. 
Chuck Hughes, at the age of 28, fell to the ground at the end of a game during his 5th NFL season on October 24th, 1971. The only player to die during an NFL game—ever.
Adam Johnson, at the age of 29, while playing a game for the Nottingham Panthers, got cut by a skate blade and couldn't receive help quickly enough on October 28th, 2023. The only player to die as a result of an on-ice injury in an EIHL game—ever. 
About 70 athletes collapse in a month, which leads to many of just those 70 athletes dead. Chuck Hughes just makes up for 1 out of the 70 possible cases. 
Many other hockey players had been cut by a skate, but most that have been publicized were okay in the end, and not killed on live television. 
Imagine this: one second, it's a normal game being played entailing of fans who are upset about refs not making a call, fans waiting for a goal/touchdown/homerun. But yet, the fans in the Polo Grounds on August 16th 1920, fans at the Tiger Stadium on October 24th, 1971, and fans at the Utilita Stadium on October 28th, 2023 will suffer one unique consequence of visiting a game that would, on any other day, be entertaining. 
So, can doing what you love actually kill you?