Bethpage Electrifies the Powerplant against Friends Academy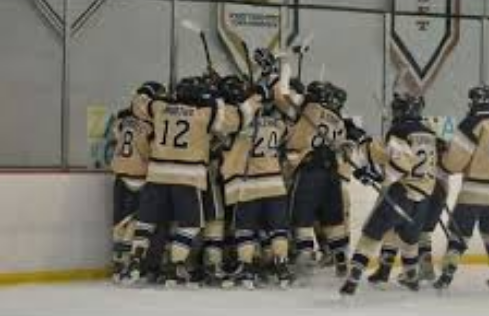 The Bethpage Varsity Hockey Team was "buzzin" yesterday as they defeated the Friends Academy Quakers by a whopping 6-0 at the first game at their home rink. It was a huge win as it was the Eagles' third straight win. This was their first game since their electric performance against Syosset which they won 4-3. The Eagles remain the top spot in the Michelino East division with a record of 4-1. The future looks bright for the Eagles as the push for playoffs and states is in full pursuit.  
     This "W" was an all around team effort with players contributing from all over the ice. The Eagles jumped out quickly to a 2-0 lead in the first five minutes of the first period. This strong start drained the Quakers of their morale and the Eagles fed off of it. The Eagles were still able to play above the Quakers' level even with the loss of Gavin Hulser, who was called for a 10-minute penalty early in the First Period. The Eagles heavyweight defense also came out of the gates very strong. They wasted no time laying the body and hard drives from the point
     Not only were the players vocal and pumped for this game but the fans were very loud and contributed to exciting the players. When the final horn sounded the Eagles came on top, 6-0. Goaltender Spyro Markoulis recorded his 2nd shutout of the season who played outstanding. Captain Gavin Hulser recorded two goals, Matthew Salerno recorded another two goals, and Assistant Captain Kevin Drucker netted a final pair.
     The next home game at The Powerplant (Bethpage Ice Rink) is next Wednesday, December sixth against Garden City at 7:45. The team would like to get many fans to attend and they ask them to "pack the barn" and said, "let's get electric."