BHS College English Students Travel to Long Island University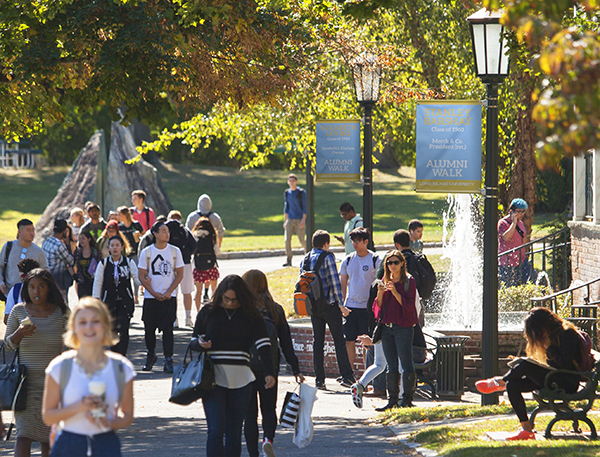 On Friday, December 9th, the college English students of Bethpage High School took a trip to visit Long Island University. The Eagle's Cry staff traveled alongside Mr. Whittemore, Mrs. Livingston, and their fellow senior classmates to interview teachers and professors, explore the campus, and show readers a glimpse of college life. 
Upon arrival, we were kindly greeted by the Chief of Regionals and Special Projects, Dr. Adams. He led us to a lecture hall where we would be introduced to who he claims is "the best English professor in the country," Professor Kessler. Before beginning her lecture she gave some background information about herself. She moved to the United States from South Africa in 1999 and has been teaching English I and II at LIU for 23 years. 
Kessler begins her lecture with what she describes as the true definition of education. She explains, the word education stems from the latin root "edu," meaning to take out. She establishes that education is not the knowledge a student obtains, but rather the knowledge a student can take out. The purpose of education is not to force memorization upon students, but rather understanding and the ability to extract information from that comprehension. 
We continue to learn about the Research Process, databases, site domains, sources, and business plans. She then compares and contrasts popular periodicals with scholarly periodicals. She added that TedTalks and Youtube videos can differentiate and utilize your paper. After preparing us for the expectations of a college classroom, she leaves us with a few words of guidance.  
Professor Kessler describes the key to success as, "bond[ing] with the library." She continues, "the library is the most important place to know at a college." She illustrates how the library will contain all the information you need throughout your college career. The library will become a safe haven for students as a place for not only studying, but serenity and calmness amidst college chaos. 
Her last few words of advice were, "Enjoy the catharsis you get from writing." Writing for an assignment invokes such stress amongst students, preventing them from writing to their full potential. Being able to write freely will not only relieve one of their anxiety, but allow for work to reach completion quicker. Whether writing for a class, journal, or assignment, writing openly and with no expectations for oneself, you release tension and better understand yourself. 
Following Kessler's lecture we received a tour of the school. We saw the residence halls, which matched that of any other college: two beds, storage, and the basic necessities. We were then taken to visit student-owned businesses, one of the most popular being the school store. Here they sell clothing, bags, hats, and all types of accessories. Following this we viewed the dining hall, where to the surprise of many students the food seemed very appetizing. They had a variety of options and catered to all food groups.  
What many found intriguing was the school's medical simulation department. It resembles a hospital, with very realistic mannequins that eat, drink, and blink. Mrs. Livingston commented that it was the first time she has toured this area, after years of taking the trip. Mr. Portuese enjoyed the campus' landscape, especially the trees that have been well preserved. He explained how, "you can't get the true feel of the campus from a brochure," when referring to the dorm and food as well. 
Touring a college campus and listening to a professor lecture in person is a completely different experience than what one can imagine. This preview into college life prepares us as incoming freshmen, and the advice given to us by current college students and professors gives us a firsthand look that otherwise we would not receive. On behalf of the students who attended the trip, we would like to thank Mr. Whittemore, Professor Kessler, and Dr. Adams for this amazing opportunity and unique experience.