Driver's Ed: What to Expect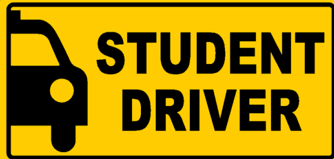 Driver's Ed is an important course to take through or outside of the school you are in. It teaches you how to be a safe driver with three factors that are involved: technical ability, the amount of time they've spent behind the wheel, and the knowledge about rules of the road. When it comes to teens, these components are all very important when they get to legal driving age. After you complete your course and pass the final exam, you'll receive your driver's education completion certificate which allows you to get a senior license at 17 instead of 18 years old. This allows you to have free range of driving anywhere anytime— that is if you have a car.
What to expect prior to taking Driver's Ed:
The cost of Driver's Ed is about $420.00. A bit expensive, but this pays for the teaching and textbooks.

Taking 1-2 days out of your week to attend an hour and a half worth of lecture and driving

Having your learner's permit before a certain deadline

A handful of projects to complete every few weeks

Following everything your driving instructor tells you because they know what they're doing
You'll hear most of your classmates complain weekly about how they don't want to go to driver's ed, but it's a privilege to be able to learn to drive so that you can have your senior license by 17. The most important part about taking driver's ed is having perfect attendance, and being on top of assigned work. If you fail to show up, or to incomplete your projects, you will automatically fail the course and be unable to schedule your road test.
Several classmates have said, "Ugh, driver's ed is so annoying", but you end up receiving your license early, and you get a 10% discount off your insurance which your parents will definitely appreciate. But a lot of close friends have been saying, "I can't wait until we all have our licenses and can drive everywhere!!" After the 5 month course is over, you definitely won't be regretting taking driver's ed.