The Extinction of the Clickwheel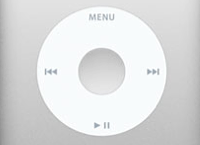 It's official: all clickwheel variations of Apple's iPod, the portable music juggernaut that overturned the music industry back in 2001, are officially gone for good. Extinct.  Kaput.
Back in September of 2014, Apple silently murdered the iPod Classic, the only remaining iPod to use a clickwheel, as well the only Apple mp3 player to offer over 64GB of storage (The "Classic" boasted a whopping 160GB).
Leading up to the discontinuation of the iPod Classic, the product was removed from all Apple retail outlets, and eventually was removed completely from the Apple website without an official announcement of the discontinuation of the iconic iPod design.
When I heard the news that the iPod Classic was being taken out of production, I looked down at my beloved silver iPod classic–a friend of sorts that's been with me since the 8th grade, with it's scratches, dents and cracks–and i realized that the death of the Clickwheel iPod marked the end of an era.
This move signified that the music is no longer a priority to the masses, but an afterthought pushed aside and overshadowed by touch screens, applications, and photos.
You just can't go back in time…but this is one time I wish that weren't so.