Cujo Bites Back at Readers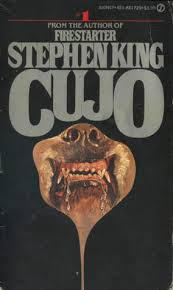 Stephen King is a well-known author worldwide—not for his alcoholic and drug-addicted past, but because he is the ultimate king of thrills and chills. Many people know him for "It", "The Shining", and "Carrie", three absolutely outstanding novels and eventual movies. For those who have no clue who I am talking about, I'll give you some quick facts. Stephen King was born September 21, 1947, in Portland, Maine. He graduated from the University of Maine and established his writing career while teaching english at a local school. His first novel, "Carrie",  set him up as one of the most acclaimed horror writers to this day. 
        One of my personal favorites was "Cujo"— a story about a rabid Saint Bernard terrorizing an innocent family. It took a couple of re-reads for me to have a genuine opinion on it but it's pretty solid now. Not only does Cujo appeal to horror fans but it also appeals to those who are into sci-fi and mystery. Stephen King's writing style isn't for everyone—his vulgar language and abstract ideas are sometimes too much for people to handle. Personally, I love the way he uses more complex ideas and goes against everyday morales. Writing a book, while drunk keep in mind, that is about a dog who goes absolutely crazy after a tragic encounter with a bat is something I adore. Mainstream horror stories that have the same general concept are a complete waste of time to me, but after reading Cujo it was like a breath of fresh air. My best friend, Ciara McGlynn, is a die-hard horror fan. Whether that be movies or novels, she's all for it. I asked her if Stephen King's concept for Cujo stood out to her and she responded with, "Absolutely. Without a doubt, Stephen King's approach on unrealistic ideas is the most iconic out of all the other horror writers". It gets awfully boring when you're constantly reading books with the same broad concept. Once you get introduced to mind twisting plots provided by Stephen King, it makes you want more. 
       The way he expands on certain situations and characters backgrounds is truly beyond me. It makes a book one hundred times better when the characters have a deeply developed history and future. It helps the reader relate to the characters and understand the decisions they make throughout the story. Right off the bat Tad becomes a very lovable character, but some believe otherwise. I asked my sister, Jaylin Tobia, how she felt about Tad and her response was, "I wish i was in the book because I would have slapped the [bleep] out of this little boy, definitely my least favorite character". She read the entire book for an english assignment last year and she seems to highly dislike this poor little boy, which is acceptable and doesn't shock me at all. Throughout the story Tad makes some… questionable decisions, which puts the reader in a position where they have to choose between loving or hating him. This goes for literally every character introduced in the book.        
Overall, Cujo is a great addition to your must have library reads. It's truly fascinating and astonishing once you give it a good read. Even if you're not so into horror stories, you should most definitely read a bit of it. Coming from an avid book reader, It's hands down one of my absolute favorites.