Bruce "The Boss" Springsteen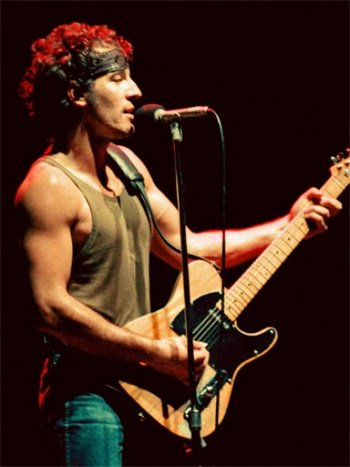 "A good song takes on more meaning as the years pass by", an ailing Bruce Springsteen once said when asked about the status of music.  This quote has echoed through the mind of a many musical zealots as they vehemently fantasize about the rhetoric spouted by their favorite artists.  Yet Bruce Springsteen's oratory not only trailblazed a foundation for the generations of musicians to come but defined a generation of Americans. Springsteen has delineated the struggles of the average American becoming the luminary of which the bruised, battered working class and every struggling American depends on to defend their way of life.
Combining elements from blues, country, folk, rock, and even jazz Springsteen created his own brand of music dubbed heartland rock due to it's succinct American nature,"[his] musical ability is unmatched", expounds Brody Paola, an avid music aficionado. This trailblazing tendency that Springsteen has exhibited has allowed him to become the laureate to which a myriad of honors have been bestowed—and rightly so as he has became the descriptive American that many view as overzealous yet is fervently American.
From Born in the USA to Nebraska Springsteen has emblazoned the most sympathetic of emotions to the world while exhibiting them in a harsh truth.  As a bluntness and grit accompany his voice, Springsteen eloquently described many stories descriptive of the people who live within the American Heartland, "He's the quintessential artist, when [you] think of older music and classic rock, [Springsteen] comes to mind", Anthony Dibennidetto affirms when asked his opinions on Springsteen..
Picture this, the year is 1973 and a little known musician drops his debut album—Greetings from Asbury Park, NJ.  Little did Bruce Springsteen know at the time that this album would become part of the quintessential listening for the average American.  Opening with Blinded By The Light, a pop beat that denotes Springsteen's angst and musical explosivity, before seamlessly moving to Growin' Up which is much more reminiscent of the more intimate and emotional sides of Springsteen as he details his scuzzy upbringing in a plain and boring town yet with vigor and emotion that applies to all of those from small town America.  Springsteen continues taking us with him on a vehemently recognizable journey through parochial towns that seem ever so familiar. The album caps off with It's Hard to Be a Saint in the City encapsulated the entire motif of the album while capturing the vitality and confidence of small town Americans as he exclaims how we all feel as he states "I had skin like leather, but the luck of a cobra.  I was born blue and weathered… I could walk like Brando right into the sun oh but I could dance just like a casanova…" encompassing the struggle someone like a ranch hand might have, being exposed to hard labor for long hours; yet showing that he could do anything anyone else can do, empowering the downtrodden and glossed over.  This is the essential Springsteen, this album documents exactly the caged feelings that many small town americans feel, yet have never been able to ardently express.
Springsteen released an album soon after Greetings From Asbury Park, NJ with little acclaim yet he reached cult status and widespread noteriarity with Born To Run just two years later.  Born To Run opens with a jolting roar as Thunder Road commences.  Thunder Road itself is a testament to Springsteen's talent as it is so easy to forget you're listening to a song; and that's because it isn't a song.  You'd be forgiven for thinking it is but it truly a journey reminiscent of Romeo and Juliet as Springsteen recounts the familiar tale of two palpable lovers, yet moves strikingly as Springsteen exclaims their love cannot work in a town that has no future, by ht contorts—shocking the listener who was lead to believe Springsteen would leave his lover for the confines of his boondock. Springsteen pulls away from amenability, suggesting to his lover, "So Mary, climb in; It's a town full of losers, I'm pulling out of here to win".  This theme of running away and starting anew is prevalent throughout the entire album as he whirrs through continuous tales of romance, remembrance, and running away to solidify a pure future which all culminates with Born To Run the title track of the album.  Born To Run is the quintessential song about running away, even if just for a night.  "In the day we sweat it out on the streets of a runaway American dream; At night we ride through the mansions of glory in suicide machines", exclaims Springsteen, depicting the small town, hard working, blue collar audience that—just like Springsteen—are fed up with the monotonous nature of their lives and ache to run away and experience love and celebration—if only just for a night.
Springsteen followed this formula for his next two albums Darkness On the Edge of Town and The River, releasing more songs like Hungry Heart and Badlands which would grow to become cult classics however, Nebraska, Springsteen's crowning achievement came after a two year hiatus for The Boss.  Nebraska was a unique effort crafted by Springsteen and he has since been yet to replicate the intimate nature of Nebraska.  The oft-heard argument of Nebraska being "boring", "uninspired" or even "lazy", as one BHS student exclaimed, yet this could not be further from the truth, Nebraska is a true folk album, drawing inspiration from what first shaped his songwriting career while being more pure and intimate look into his woes that we have ever had.  While Nebraska remains an outlier for Springsteen, a record that sits uneasily in his discography.  Instead of making an impact upon release, Nebraska has been accruing weight gradually over the last four decades, becoming a marker of its socioeconomic era as well as a time capsule of disparity and melancholy.  With tracks like My Father's House, Highway patrolman, Reason To Believe; Springsteen opens his heart, the exact thing a brobdingnagian superstar should never even think about.  Yet for Springsteen it pays off. For Springsteen it presents itself as a gloomy dejection to the state of music and the attitudes toward the socioeconomic havings of the American Heartland.
Springsteen furthered his legacy of success with Born in The U.S.A., his apology to his fans of Born to Run  Springsteen, yet remaining unapologetically applicable to the struggles of working class Americans.  Initially three songs on the album, Born in The U.S.A., Dancing in the Dark, and I'm on Fire, were all written for and meant to be sung by Johnny Cash; who unfortunately passed away before receiving the songs.  Thusly Springsteen took the reigns, releasing all these on an album that was a love letter to patriotism and a fitting tribute for Johnny Cash.  
Springsteen has since had a tumultuous career earning many accommodations including  20 Grammy Awards, two Golden Globes, an Academy Award, a Tony Award (for Springsteen on Broadway) and was inducted into both the Songwriters Hall of Fame and the Rock And Roll Hall Of Fame in 1999.  In 2009, Springsteen was a Kennedy Center Honors recipient, in 2013 was named MusiCares person of the year, and in 2016 was awarded the Presidential Medal of Freedom.  All of which were justly earned by the most American, ingenious, and privy artists of the modern era. Mr.Malossi, a teacher at Bethpage and ardent fan of "The Boss", recently saw Springsteen live and exclaimed "It was the greatest show I have ever seen—ever", showcasing that not only does Springsteen have the lyrical prowess of the child of a demigod and Bob Dylan, but he may just be one of the greatest showmen to ever live. With a grit and a resonance that permeates the air and tenor, Springsteen chants every lyric with utmost care and importance, presenting you with every ache and woe of one of America's greatest artists.
But why should an American teenager care about him almost thirty years past his artistic zenith? As you may have read, Springsteen has had a poignant career that can relate to the veil that covers all of our lives.  Being from suburban Bethpage it is easy to misconstrue how an artist who relates to a parochial section of America can relate to the middle ground between rural and city life; however, this is the exact reason why Springsteen is relevant to you; a Bethpagian.  Springsteen's varied career, ranging from melodramatic melancholy to sanguine songs, there is something for everyone. A song for a pauper, a song for a magnate, a song for the disparaged, a song for the unhappy, a song for everyone—a song for you.