The History of the Bethpage High School Auditorium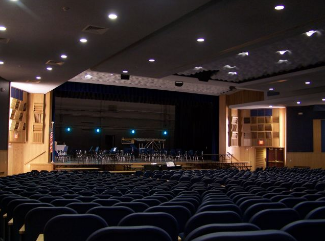 Bethpage High School had a lot of different features back in the day. One of them is the school's auditorium.
The Bethpage High School auditorium, also named the Bethpage High School Center of Performing Arts, has been changed over the years, with the most recent makeover in 2008. Some changes to the auditorium was its new architecture, atmosphere, seat settings, and the way events are held.
The school principal, Mr. Spence, explained how "everything was updated: to the seating, to the lighting, to the sound, and to the design of the auditorium."
The auditorium went through a lot of visual changes in its history.
Science teacher, Ms. D'Alleva, mentioned how "the high school auditorium used to look like the one currently at JFK Middle School."
Today, the auditorium has built in seats with pull out tables on the first two center rows. Back in the day, the auditorium didn't have built in seats; instead, they had the metal flip chairs that needed to be set up before an event could take place. These chair setups are still being used in the elementary schools, because they also use the space as a cafeteria.
Some also said that the quality of the sound has changed since the auditorium was renovated. They say that the sound in the auditorium usually sounded "not too well", had "an echoing environment" and "bad monitors."
The auditorium today hosts events such as the two drama productions: a play in the fall, and a musical in the spring. They also host the fashion show in January, the National Honor Society Induction Ceremony in May, college planning meetings in October and January, winter and spring concerts, fundraiser events, and the graduation ceremony depending on weather conditions.
The auditorium brings back memories to Bethpage alumnis. One time, a student came back to the High School, and proposed to his wife in the auditorium. They had met each other on stage back in the day. Other students who went to the school would remember all the events that happened when they were in high school.
Mr. Spence concludes "our auditorium has always been enjoyed by students that were here years ago at the high school, whether it's today, or whether it's 60 years ago. It's a great place for productions, for students to have fun, or to come together— it's been enjoyable for a lot of years"