BHS Language and Journalism Students Interview the NYCFC
On Thursday, May 5th, 2016, a group of eight lucky students and Mr. Rodriguez had the unique opportunity to attend an NYCFC soccer team practice and later got the chance to interview two of its players.
Students arrived at SUNY Purchase around 10:30 a.m., and with practice starting at 11:00, members of the BHS Language and Journalism programs were told the do's and don'ts for when they entered the complex. After receiving our credentials, they made their way to the field just as practice started. It turns out that these students were the first ever to be a part of the NYCFC's "press day" and they were treated like genuine press. The students stayed in the blocked-off media area on the field, and got to watch the entire practice before conducting interviews.
Seniors Dylan Brown and Jillian Leavey were up first, interviewing Frédéric Brillant, a newly acquired defender from France. The two conducted their entire interview en Francais and it was extremely interesting to watch the interaction between the three; only Dylan, Jill, and Frédéric were able to understand.
"Seeing the behind the scenes action of a pro soccer club was a once-in-a-lifetime experience," Dylan Brown said. Speaking to a French player, completely in French, is something few Americans can do. [Frédéric] Brillant was a very down-to-earth guy, but he spoke very fast. I could just laugh and nod when I didn't understand."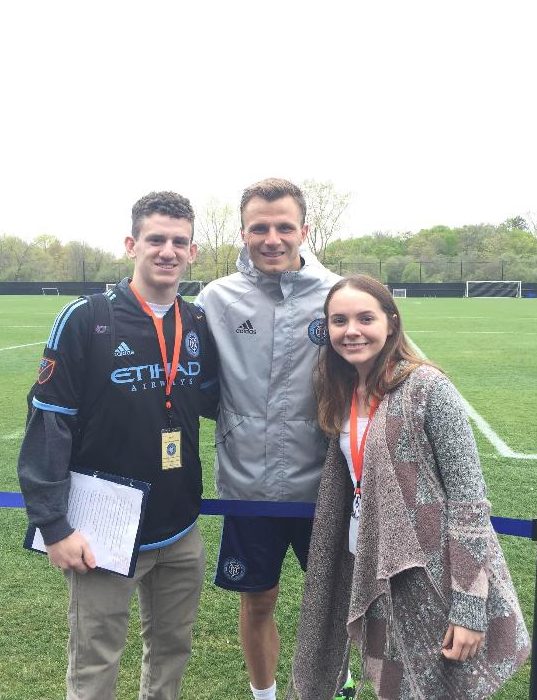 The second interview was conducted by Kelsey McGuggart, Jenessa Asch, and Brendan Reilly. The Spanish students interviewed Mikey Lopez, a Texas native, and the interview was conducted entirely in Spanish. Jenessa Asch said, "It was a great experience to meet Mikey Lopez and to be able to practice my Spanish with a fluent speaker."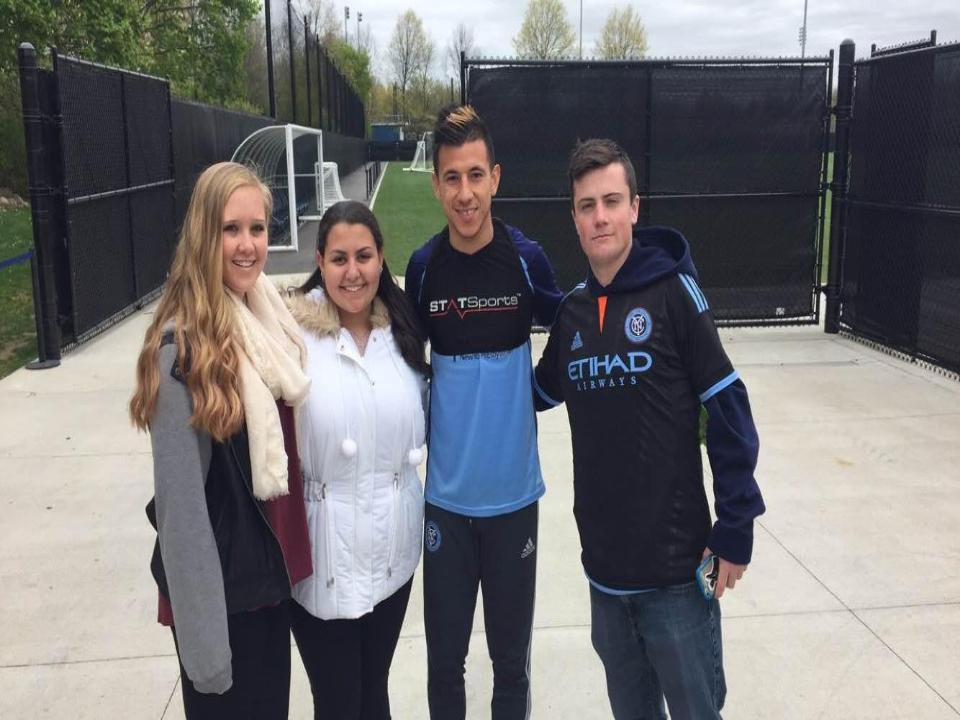 Being stuck inside a classroom the entire year to learn a language has its ups and downs. Students get to experience the learning of these incredible languages with their friends and peers, but normally cannot put their skills to use in real-world situations. To be able to interview two players of such an astounding organizations in different languages is truly amazing. Everyone was slightly nervous going into this experience, but by the time the interviews started, the fears were forgotten and the students became immersed in the experience.