Bethpage Sophomore Smiti Shah Heads to Second Round of INTEL Science Competition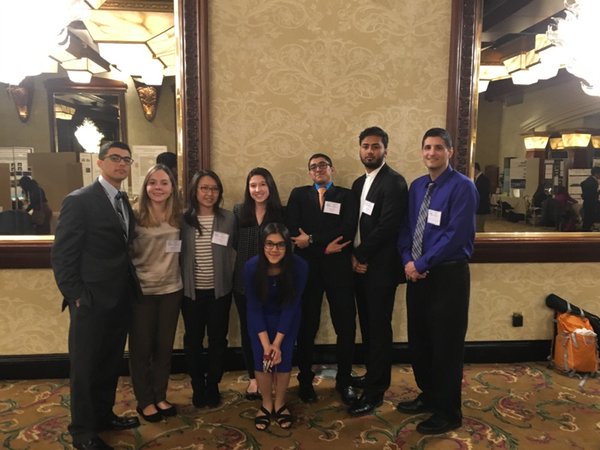 On Wednesday, February 3, Mr. Pollatos and the Science Research program participated in the Long Island Science and Engineering Fair (LISEF) at the Crest Hollow Country Club. Seniors Ali, Ahmadi, Ali Khambati, Lynne Richardson, Jillian Leavey, Melissa Cao, Thomas D'Agostino, and sophomore Smiti Shah all represented Bethpage High School with extensive projects.
Smiti was invited back for the next round of the competition.
The INTEL LISEF competition annually exhibits research projects from students grades 9 through 12 across Long Island. Students often pair up with a professional in the field, serving as their mentor. The projects are conducted over the course of two years, complete with in-the-field work along with in-depth research into the background knowledge of the topic.
"I really enjoy this class because it's not your conventional 'classroom' setting, instead you can reach out to different places in order to study your desired field," said Thomas D'Agostino.
Most of the students enroll in the most rigorous science courses BHS offers.
"Science research is the chance to discover the unknown; for me, I am interested in neuroscience because there is still so much that we don't know about the organ responsible for all our thoughts and actions," explained Melissa Cao, whose project focused on the MINT2 gene associated with autism spectrum disorders (ASDs).
Ali A, Lynne, Jillian, Ali K, and Thomas all worked with horseshoe crabs for their projects in association with Molly's CERCOM Laboratory. "I've always been interested in marine life and my partner on this assignment was interested in chemistry, so we thought this project incorporated both of our interests nicely," Lynne said.
The students all explained that their success in research could not have been possible without their teacher.
"Mr. P always puts his students first and it's great to have a teacher like that who you know you can count on to help you when you need it," Melissa said.
While the competition is over for all the seniors, Smiti Shah was invited back for the second stage of INTEL LISEF. Although her work has already been submitted, her future studies will shift their focus toward developing water filtration systems through nanoparticles.
"Right now, I'm working on developing a water filtration system that would clean water in any part of the world—using any soil," said Smiti.