Get Ready for Your Onsite College Interview
As has already been well-established in the digital pages of The Eagle's Cry, college application time can be a stressful stretch of a senior's final year in high school. The guidance department at Bethpage High School understands this and works to accommodate seniors and facilitate the process. Guidance counselor Ms. Payne organized a method of applying to college known as an 'onsite." This consists of an on-site interview with a college, after which the college can either accept or decline a student. Application materials are reviewed in real time with the student and admissions officers at the same table.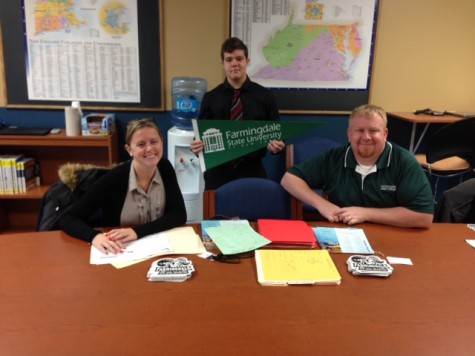 Some onsites have already occurred: St. Joseph's of Patchogue, Iona, LIU Post, Hofstra, Adelphi, and NYIT–and these have proven successful, with most Bethpage students receiving invites to attend.
"Admissions decisions are given on the spot, and depending on the school, scholarship monies can be awarded also," Ms. Payne said. Also, during the process, students can ask questions about the college. An overlooked advantage of the process: colleges can put a face to the name, making the application more personal.
Any student can apply for an onsite, but guidance strongly encourages students who meet the specific school's minimum requirements for test scores and GPA. Although guidance suggests certain students do an onsite, students who are above the minimums stand a better chance of admission. Some students falling short of the requirements may be waitlisted, have their applications reviewed by a panel, and hear a decision at a later date.
The best way a student can prepare for a college's onsite is to look at the college's "prep sheet." Going into an onsite, students should bring their teacher recommendation letters and completed applications. Some schools also require students to submit applications online before an onsite.
Ms Payne said, "The best advice for a student during an onsite is to be well prepared, have all requirements for an onsite, and to dress well." She also suggested conducting prep sessions before the onsites so uneasy students will be completely ready.
Students should not be anxious for an onsite. Admissions representatives briefly look over the essay, transcript, scores, and casual questions.