Mr. Destefano: A Portrait of the Artist as a Teacher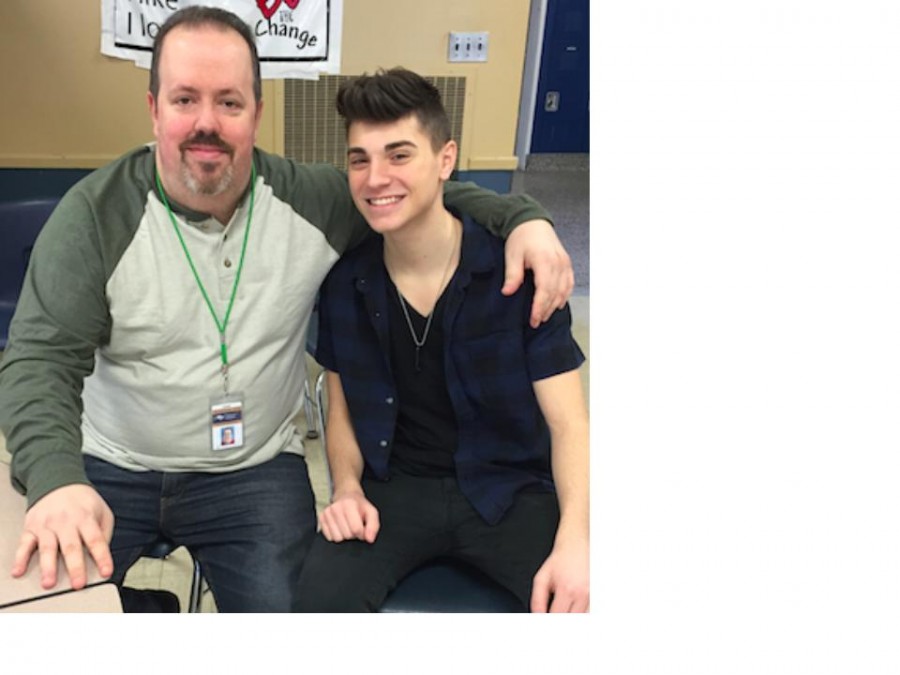 Mr. Chris Destefano has been roaming the halls of BHS for over 20 years, and surely he can't be missed. MEANING: his loud (Very Loud) and colorful (Very Colorful) personality paints the sometimes-drab hallways of Bethpage High School. Mr. Destefano can be found 6th period in the cafeteria, if only because he's the monitor there. Most of the time, however, he can be found in his art room. You've seen the door, with its crazily cartoonish decorations.
Mr. Destefano is what many would call "artsy," and believe it or not, he could've fallen under this category while growing up as well. He stated, "I was always deeply interested in art, and I think it was a natural progression to become an art teacher because of my ongoing passion with the craft. Being someone who works with young people was a way to combine both areas of my life and make a career out of it."
BHS students are thrilled that he made this choice. "Mr. D always keeps a very motivated classroom," said senior Marie Kelly. "I was always extremely excited to get to his class and work, just because he didn't make any project seem like a chore. He'd make us laugh, but also help mold us into young artists."
Clearly, Mr. Destefano has a great relationship with not only his students but other kids at BHS as well.
"I've never actually experienced having him as a teacher, but I've gotten to know him outside of the classroom and I think he's 'wonderful'" explained BHS senior Noelle Grassel.
Destefano explained that it all has to do with "my unabashed enthusiasm for life, my strong but sensitive jaw, and my fervent passion for all things educational."
The honest truth is that Mr. Destefano is very different from most teachers, but a perfect fit at Bethpage High School. "Besides my good looks," Mr. Destefano announced, "I hope I've brought a new respect of the arts to Bethpage High School. I believe I've added positive aspects, as well as some laughter to past and present students." I think we can all agree he has done just that.
On his days off, Mr. Destefano is nothing short of thrilling! He claimed, "Well I enjoy long walks on the beach, crying at sad movies, and handfuls of Doritos. When I'm not doing that, I am painting and collecting antique documents and art."
For those students who've never had the opportunity and the blessing to have attended Mr. Destefano's classes, I strongly urge you to do so or simply find a way to communicate with him. Over the course of four years, this man has taught me lessons and supplied me with some of my best moments here at Bethpage High School. He's supportive, uplifting, and humorous. He can bring tears to your eyes from laughter, but can also calm your stressed mind. What is special about Mr. Destefano is that you're not only getting a teacher, but also a role model and advisor.