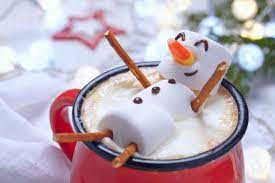 As winter slowly approaches and the weather begins to get chilly, the holiday spirit is starting to creep into the hearts of BHS students this year. Personally, I have always strongly felt winter was the best season. Not only the beautiful snow that paints the landscape, but also the music, food, and Christmas. Additionally, Christmas has a nice meaning for Christians, New Year's is close, and my birthday falls on the 26th of December. After some thought, I realized all these reasons are very personal and there is a possibility many people would disagree, thus, I was inspired to interview BHS students on their thoughts. 
From Mariah Carey playing into headphones and Starbucks drink menus to Hanukkah and Christmas, this Wednesday, students were asked if they truly believe the holiday season is "The Most Wonderful Time of the Year." 
Tasnim Adhree, a sophomore student, shares her take and says, "As a Muslim who doesn't celebrate Christmas or anything, the vibes during that time of year are still unbeatable." Another student in 10th grade named Tarunjot Kaur says, "It's cold, I like the cold." When surveyed, many students such as Karla Bermejo had similar opinions, usually adding that Christmas made it all the better. 
On the contrary, Sophomore Paridhi Miglani believes that Fall is a more enjoyable time saying, "It's not too cold, it's not too hot– the fall fits go hard. Your makeup doesn't melt off, the colors are pretty, and it's just a happy time." 10th grader Chris Heusel also agrees that Fall is the best, while students such as Sukhman Kaur believe Summer or/and Spring are the best season because of the vibrant colors and sun. 
So, while there are some BHS students who don't find the holiday season appealing, it seems the majority of students, celebrating or not, agree that so-called "The Most Wonderful Time of the Year" deserves its title.