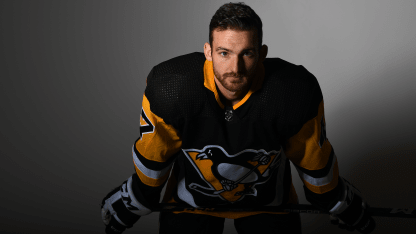 Due to its intense and continuous action, hockey is regarded as an entertaining sport to watch. Hockey is meant to be a game that fans and players equally enjoy.
Sadly, on October 28, 2023, the hockey world tragically lost a talented player when 29-year-old Adam Johnson was fatally injured while playing for the Nottingham Panthers in an EIHL game.
The Eagle's Cry interviewed a few students on what they think various leagues should do to prevent this situation from occurring again.
What was the situation? 
During a game, Matt Petgrave got into an on-ice collision with Johnson. Petgrave's skate happened to hit into his neck and lead to a massive cut. Due to the amount of blood lost, his life ultimately was cut short. 
How can this be prevented?
Many players across a few leagues have started to wear neck guards during games. While there are many players wearing them, there are not enough of them. The Western Hockey League (WHL), Pittsburgh Penguins ECHL, and AHL teams are required to wear neck guards for their players protection. Although many leagues have required the usage, the most popular league, the NHL only "strongly recommends" neck guards. 
Washington Capitals player, T.J. Oshie, had a very compelling argument for the usage of neck guards. Oshie said that he "made [his] choice for [his] kids." and that he just "want[s] to stick around for 'em."
But others, such as Rasmus Dahlin, a player for the Buffalo Sabers, didn't love the neck guards yet. Dahlin says that his neck guard "was very warm and [he] felt very uncomfortable using it." Dahlin also adds that he is willing to wait for "something nicer in the near future."
Connor McDavid, Edmonton Oilers forward, also had an interesting view on how this could be prevented. McDavid says that "the game is so fast out there, (so) unpredictable at times. No matter how smart, well prepared or how many years you've been playing the game, random things happen." He also adds that he has immense faith in their medical staff because he believes "they're prepared to handle just about every situation on the ice."
Has this situation happened before?
While there have been many similar situations, very few have been fatal.
For example, in 1989, Clint Malarchuk was one of the first known situations where this had occurred. Thankfully, Malarchuk got help immediately and ended up being alive after the incident. Malarchuck even said that he got "total anxiety" from the Johnson situation and that he "can feel it."
Others, had been saved by a simple neck guard. In 2017, Cassidy Gordon, got hit in the neck with a skate blade as well. Gordon always brought neck guards with her and added that "no matter how stupid or not cool you think it looks, it's definitely an important thing to wear." In  just a normal, high school game, Cassidy could've had a rougher end to her game. In an injury that could've been really bad she had "no blood" and that she even "didn't get cut at all", thanks to her neck guard.
What do BHS students think?
Allie O'Shea, junior at BHS believes that "more protective equipment should be required for all hockey players to wear" so that this situation will not be replicated in the near future.
An anonymous BHS student believes that "it should be each players choice" but ultimately, "the smart choice would definitely be to wear the neck guard."
Nora Kerrigan, another junior at BHS adds that so players don't have much of an excuse to not wearing neck guards, they should design "more comfortable, effective" ones which would ultimately make players "more inclined to wear them."
In general, there are no right or incorrect ways to handle this kind of situation. However, there is a more proper approach to attempt to stop another catastrophe from happening. This cannot occur again, whether it is with greater safety gear or less physicality.
It's obvious that many people would get bored with hockey if the physical component were removed. When will a more comfortable neck guard be available?
Rest in peace, Adam Johnson. The Eagle's Cry sends condolences to his family, friends, and fans.