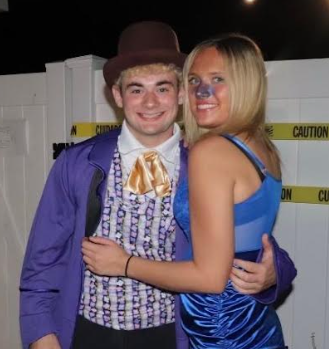 This past weekend, Bethpage High School students celebrated Halloween, including many couples here at BHS who dressed up as iconic duos, and today The Eagle's Cry will be listing the top 10 best couples costumes at BHS this past weekend.
Mermaid and Sailor- You might have seen a few different versions of this costume considering many different couples dressed up as this. Nora Kerrigan, who dressed up as a mermaid and sailor with her boyfriend said, "It was a really fun and easy costume. I loved being a mermaid!"
Statue of Liberty and Tourist- This costume was a big hit for many couples this year. Especially since we live in New York, this costume really hits home and shows off students' New York culture while being cute and funny!
Catwoman and Batman- This iconic duo was interpreted in many different ways this Halloween and definitely was a big hit. This costume is somewhat simple, but it is easy to put together and very fun and cool to dress up as!
Little Red Riding Hood and Wolf—the childhood story turned into a costume never fails to make an appearance every Halloween. Many couples dressed up as Riding Hood and the Wolf this year, and in any variation it always looks good!
Princess Peach and Mario- Although Princess Peach is traditionally blonde, this costume is a great option for couples, blonde or not. There were many versions of this duo this Halloween, and all of them slayed!
Cop and Prisoner- There is no way to mess up this costume on Halloween. Many couples at BHS dressed up as cops and prisoners this past weekend, and we are sure it will continue to be an iconic costume for many years to come!
Willy Wonka and Violet- Although the movie is very popular, this costume doesn't show up as often as others, but when it does, it always looks amazing. Julia Baumbach, who dressed up as this with her boyfriend, said "I'm a huge fan of the movie, and a lot of people liked it".
Barbie and Ken- It doesn't get more iconic than this duo. Barbie and Ken return this year as an extremely popular costume due to the release of the new Barbie movie. Every blonde couple is going out in this costume this Halloween, and it never fails to look amazing in every variation!
Woody and Buzz- Although both characters are technically boys in the Toy Story movie, this costume has been done in many different ways for couples. BHS students have done this costume before and still continue to do it because it is so cute! 
Remi and Chef from Ratatouille- This costume is on the rise as one of the most popular costumes this Halloween. Multiple BHS couples dressed up in this costume this year, and it looked good on everyone! 
Clearly, Bethpage couples know how to dress up for Halloween and always make it look good. We hope everyone had a fun and safe Halloween! What did you dress up as?