Taylor Swift Rerecords Her Albums—The Eagle's Cry Reacts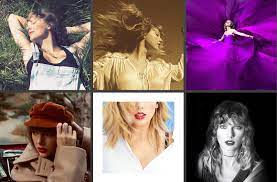 On April 9th 2021, the queen Taylor Swift released her first Taylor's Version of her songs. Taylor's Version is a rerecording of previous albums she has released. The first album she re-recorded was Fearless; the original album was released November 11th, 2008. The reason Swift has been rerecording these albums and naming them Taylor's Version is because of the ongoing feud between Swift and Scooter Braun. 
Taylor Swift joined Big Machine Records and was their very first client. As a 15 year old girl, Taylor didn't quite know what she was getting herself into. On her 6th album, she left the record company. Swift was unaware that this company owned all the songs on the first 6 albums, and when she realized this, she was very upset. So, she began to re-record her first 6 albums, and she's been releasing these albums one at a time. Any album produced by her after she left, she owned and had to fight for ownership over. 
As of 2023, she began a tour called "The Eras Tour," where she performs her favorite songs from each of her albums. She now performs the Taylor's Version of each song, and the old versions of her songs are no longer the same. Her tour has been killing it and many people have been calling her the best female performer, and breaking records for a female artist on tour.
On May 5th, Taylor released the news that she will be releasing Speak Now (Taylor's Version) on July 7th. This is one of the only albums Taylor has yet to release in the form of Taylor's Version. It has been requested by many fans for a long period of time. Her original album only has 14 songs, but the new album will have the original 14 re-recorded as well as 7 new songs from the vault. 
In conclusion, Taylor Swift is a queen and she deserves the rights to all over her amazing albums and she's slaying life by getting those rights.