Question of the Week: What final/regents are you most prepared for?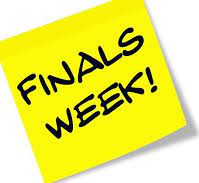 With finals approaching, BHS students become increasingly stressed and worried about the possibility of summer school. Let's see what regents/finals they are most prepared for and why.
Social Studies
  Sarah Watson, Nora Kerrigan, and Julia Coscino all said they are prepared for their social studies regents because they already took the AP and they are now more prepared for the regents.
 Chemistry
Eva Neamonitis, Gabby Hernadez, Haley Flaherty, Julia Raber, and Kaia Correll all feel most confident about chemistry. They all feel most confident with it because in chemistry they take practice regents every double period and go over it in a single period after. They are feeling more confident with the regents format.
Math
Sophia Lora is most confident for math because it comes easy to her. Though geometry "is one of the harder regents," she feels prepared. 
English
Lauren Kelly is most confident with the English final because she enjoys English and she finds the subject easy. 
FLACS
Abby Chappell is most confident with the Spanish FLACS exam because she finds Spanish easy and her teacher prepared her well. 
On behalf of The Eagle's Cry, good luck to all the students taking finals and regent exams!