The Eagle's Cry Review: The Eras Tour
On March 17, 2023 at 9:30 PM, Taylor Swift took the stage in Glendale Arizona for the first time in 5 years since her, Reputation Stadium Tour. 
Swift wowed the crowd with crazy outfits, an enormous 44-song long set list, and a few surprises. Not only did she create new iconic moments for Swifties during the start of this tour but she also became the first woman to ever headline at Allegiant Stadium in Las Vegas, Nevada.  
In this The Eagle's Cry piece, Emily and Gabby explore the major aspects of her tour and break down what they think fans should know before going to the concerts. 
Taylor's Outfits
Gabby: Swift wins the "Best Dressed" award for her gorgeous purple flowy dress that she wore throughout her "Folklore and Evermore Era" performance. This dress with its ruffles and bell sleeves heightened the effect of her romantic aesthetic of these two sister albums.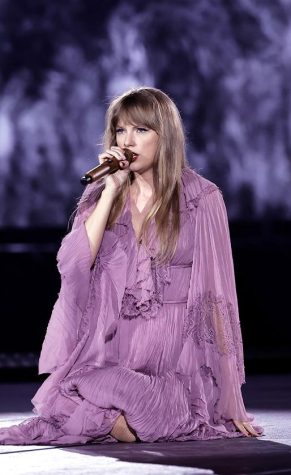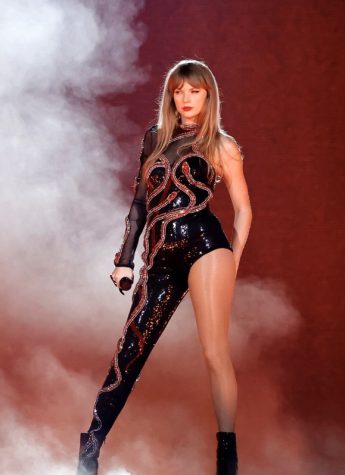 Emily: Blondie brought the drama to her Reputation set with her red and black bedazzled bodysuit. The custom suit by Robert Cavalli—an Italian fashion designer—paid tribute to Miss Swift's Reputation Tour by featuring her iconic snake design which depicted multiple sparkling snakes, wrapping around her figure, slithering all the way down to her matching boots. Taylor has officially outdone herself in regards to the fashion aspects of The Eras Tour, and if you don't agree, please "don't blame me, love [for Taylor Swift's new wardrobe] made me crazy."
Fan Outfits
Gabby: My favorite Fan Outfits have been the ones inspired from the Lover album. These outfits have captured the country-pop essence of the album, with personal twists such as heart sunglasses and clear purses. Combined with Swift's classic country boots, these bedazzled, colorful ensembles set the bar for what you should wear to The Eras Tour. 
Emily:  Fans have been crushing it, as they prepare for Taylor's praiseworthy Fearless set, preparing concert clothing options including: fringed dresses, sparkling two-piece sets, over the top tops and showstopping skirts. Capturing the country-pop aesthetic of this infamous album, allows fans to push the limits when it comes to their Eras Tour attire.
Setlist
Taylor Swift has blessed us this tour with 44 songs, a few from each of the albums on her discography. Instead of breaking down each and every song choice Swift made, here is the entire set list for you to review and break down as a Swiftie:
"Miss Americana & The Heartbreak Prince (shortened)"
"Cruel Summer"
"The Man"
"You Need To Calm Down (shortened)"
"Lover"
"The Archer"
"Fearless (shortened)"
"You Belong With Me"
"Love Story"
"tis the damn season"
"willow"
"marjorie (shortened)"
"champagne problems"
"tolerate it"
"…Ready For It?"
"Delicate"
"Don't Blame Me"
"Look What You Made Me Do"
"Enchanted"
"22"
"We Are Never Ever Getting Back Together"
"I Knew You Were Trouble"
"All Too Well (10 Minute Version)"
"invisible string"
"betty"
"the last great american dynasty"
"august"
"illicit affairs (shortened)"
"my tears ricochet"
"cardigan"
"Style"
"Blank Space"
"Shake It Off"
"Wildest Dreams (shortened)"
"Bad Blood (shortened)"
"Surprise Acoustic Song"
"Surprise Acoustic Song"
"Lavender Haze"
"Anti-Hero"
"Midnight Rain"
"Vigilante Sh*t"
"Bejeweled"
"Mastermind"
"Karma"
In addition to this already impressive setlist, Swift has promised not one, but two surprise songs each night. Yes, you heard that right, every show will be unique in its own way; it will include a song specific to Taylor's personal preference of what she would like to sing and when. So, it's time to "roll the dice" and hope your favorite songs will make the cut.