BHS Adds a Girls Flag Football Team!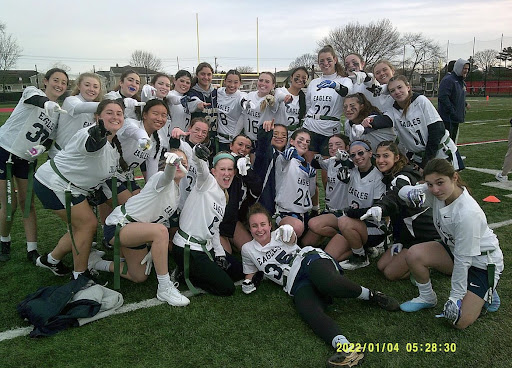 With BHS starting off their inaugural girls flag football season this year, it is clear that there are alot of questions surrounding the new team. The Eagles Cry sat down and talked to players, coaches, and league administrators to get a sense of what the team will be.
In 2021, the New York Jets in partnership with Gatorade and Nike, launched an eight team girls flag football league with teams from New Jersey. The league saw huge success as schools across the area wanted teams of their own. Many got their wish, and in 2022 the league expanded to 40 teams in both New Jersey and Long Island. Again the league saw great success and is expanding rapidly as there are an expected 140 schools across NYS, and a 12 team league in England to debut their teams this year. With the help of many organizations, girls flag football has become a NYS state championship sport as per the New York State Public High School Athletic Association (NYSPHSAA). Over the last few years the league has grown from an 8 team startup to a global organization and has seen great success across different areas. 
When the news broke, girls across the school quickly signed up for the upcoming season. Of them, sophomore Eva Neamonitis who is looking forward to the upcoming season. She said, "When I heard about flag football I thought it would be fun and many of my friends were doing it. Also it is the first year of this team at BHS so I was like 'why not?' so I decided to join the team even if I didn't make it." Eva went on to say that the team represents "an equal opportunity which is just awesome to me." 
The BHS girls flag football team had their first game Wednesday with the first touchdown in team history from Sophomore Kate Cusack. They went on to beat Plainedge by a score of 33-18. As they start their season with a 1-0 record it is clear that there is alot to look forward to from this inaugural team.