8 Things to do on Valentine's Day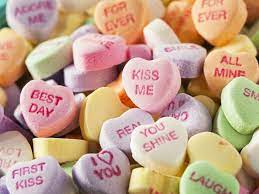 With Valentine's Day approaching quickly, The Eagle's Cry put together a list of the top 8 activities you can do on this loving day!
Give someone flowers—Flowers are one of the best ways to spread love on Valentine's Day. This is the perfect opportunity to give flowers to a close friend, or maybe even someone you like.

Give someone chocolate—Chocolate is a staple piece for Valentine's Day and definitely something you can give to someone.

Go on a date with your Valentine—If you're looking for something to do, going on a date with someone is one of the best ways to spend your Valentine's day, all you have to do is ask!

Buy a candy gram—The Spanish club is selling candy grams outside the cafeteria during all lunch periods up until the 13th, so if you're looking for a way to find a valentine, this is definitely an option.

Christina, a sophomore selling candy grams says, "Just bring two dollars to school and you can send one to someone you love."

Watch a romantic comedy—If you're planning on staying home this Valentine's Day, turn on a loving, funny movie. Last week,

The Eagle's Cry

published another article on the top 10 rom coms if you are looking for one to watch.

Have a Galentine's party—If you don't have a valentine, but have a good group of friends, have a Galentine's Day party or dinner with your closest gals!

Eva N, a sophomore at BHS says, "I love hanging out with my friends on Valentine's Day, it's so fun!"

Bake Valentine's Day themed pastries—If you're bored at home on Valentine's Day, bake some heart shaped cookies or red and pink cupcakes to ensure an enjoyable day for you and your family.

Make Valentine's Day crafts—If you are feeling crafty, make some festive decorations to hang up for this exciting holiday!
The Eagle's Cry wishes a happy Valentine's Day to everyone at BHS!