What is Bethpage Baseball Building Out There?
From water drainage to fan experience, Bethpage Baseball is making improvements on their field. With renovations set to be completed before the season, the baseball community at BHS is getting excited. Players and staff here at BHS worked with reporters at The Eagles Cry to showcase their excitement for the renovations. 
Athletic director, John Franchi, pilots the construction, monitoring it to ensure a timely finish. With reasons beyond what the eye can see, Franchi explained what is going on. "We're building a new bleacher system and a new backstop. Right now we really don't have a good bleacher system and we had people sitting in fair territory which is a dangerous situation. While doing this we took up a big drainage project because we always have big floods in that area." 
As per varsity baseball coach, Mr. Fisher, the new fencing will resemble the new baseball field at JFK Middle School which is just a few minutes down the road. The new fencing will be made out of net instead of metal just like at JFK.
In the picture below, you can see the JFK Middle School baseball field. If all goes according to plan, BHS will see a similar design in the netting behind the plate.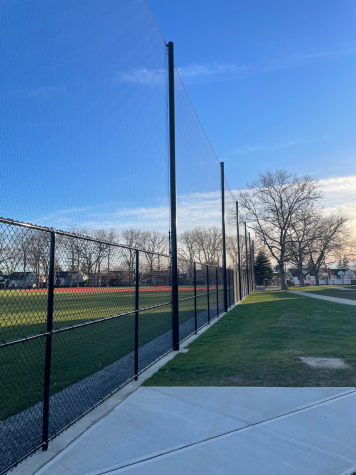 With that news in mind we went out and found players on the baseball team who were particularly excited about the field. 
Michael Macholz, 3rd baseman for the JV team expressed his opinion on the renovations. He is excited about the increased fanfare as Mike likes to play in front of a crowd. When asked about what he is excited for Mike said, "More fans and the louder noise."
Varsity 1st baseman James Mertz has similar opinions about the project. Mertz said, "I'm excited that there will be more people to watch the games. It is nice playing in front of people, it makes the game more fun."
Along with players, the BHS staff is excited as well. Mr. Barden, former 8th grade baseball coach and current Spanish teacher at BHS is known to love the game. 
Coach Fisher is very excited about this project but he has his sights set bigger, as he looks forward to the building of the all new turf batting cages behind the gym. 
While talking about the batting cages, Mr. Franchi said, "It's definitely coming, that was all a part of the bond. It should be completed July 5th, so we will be up and running for the opening of school next year. It is going to be awesome, it is about 40 yards long with 2 batting cages, so while looking at it from a baseball's perspective you could do ground balls, pitching, and hitting there."
Although the field looks bad right now, it is clear that the field at BHS will see some notable improvements. The safety, fan experience, and field durability will all be improved as a result of this project. With much more on the horizon for baseball at BHS, the excitement builds up as projects come and go.