Top 12 Christmas Activities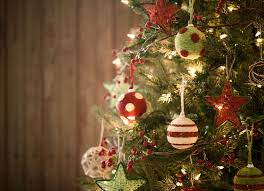 As December begins, so does the Christmas season, bringing fun traditions and activities for many to enjoy with friends and family. The Eagle's Cry put together a list of 12 activities you can enjoy on the 12 days of Christmas to make your December memorable.
Decorate the tree- It is known to everyone that the Friday after Thanksgiving is designated as a day for decorating. Help your family decorate the tree as you prepare for Christmas and all the fun it brings. 
"I love getting out the ornaments and putting them all on the tree with my brother and parents," says Eva Neamonitis. Decorating the tree is definitely one of the most nostalgic parts of Christmas.
Shop for gifts- Another activity you can do the day after Thanksgiving is head to your local mall or favorite stores for some Black Friday shopping. If you want to get gifts for your loved ones at the best price, Black Friday is definitely the day to go, as long as you don't mind crowds. 

Drive around the neighborhood and admire decorated houses- Once everyone's houses are all decorated, driving around your lit up neighborhood at night and admiring all of the unique lights on the houses is definitely a fun experience for you to enjoy with family and friends. 

Visit Santa at the mall- If you're at the mall shopping for gifts, you might want to plan to see Santa and get a picture with him.
 "I always loved seeing Santa every time I would go to the mall with my mom around Christmas when I was a kid," said Julia Baumbach. You can check to see if your local mall has Santa visiting this December.
Watch Christmas movies- One of the most enjoyable things to do during the cold winter season is grab a blanket and turn on a fun Christmas movie while drinking some hot chocolate. Eva Neamonitits, another writer at

The Eagle's Cry,

wrote an insightful article on the best Christmas movies to watch this holiday season if you'd like to know exactly which movies to watch. 

Listen to Christmas music- Once December begins, anytime you turn on the radio a Christmas song is sure to play on every station. This holiday season you can listen to throwback Christmas songs like "All I want for Christmas is You" by Mariah Carey or even a new song out now on the radio. Either way you'll be sure to sing along to every word. 

Go ice skating- If you live in Bethpage, then you know that the Town of Oyster Bay Ice Rink is the place to be during the holiday season to ice skate or even watch varsity hockey games. Going ice skating with your friends is one of the most enjoyable activities to do around Christmas time. You could even go to Rockefeller Center and see the big tree all lit up while ice skating in New York City.

Bake cookies- As Christmas gets closer, cookies become a fun treat to make for your friends and family. You could find a homemade recipe or make them from the box, but either way they'll be delicious and great for when Santa visits on Christmas day. 

Go sledding- The cold weather and snowfall brings new activities to do with your loved ones. Sledding is one of the most easy and fun things to do when it starts snowing because all you need is a sled and some snow. It's definitely a fun activity to get you moving and ready for the Christmas season.

Make gingerbread houses- This is a fun activity that lets you express your creativity during the holiday season. You can make different kinds of gingerbread houses with your friends and family, and even have a decorating competition to see whose house is the best. 

Wrap gifts- As Christmas day approaches, you need to prepare all your gifts for the people you plan on giving them to. Although some dread wrapping gifts, this activity puts you in the holiday mood and the giving spirit, which is perfect for this season.

Wish your friends and family happy holidays- Christmas is all about being surrounded by loved ones and being brought together for the holidays. The best gift you can give to anyone is simply saying "Happy holidays," so don't forget to tell, call or text your family and friends to wish them a happy holiday season!
We hope this list of different ideas makes your Christmas season amazing! The Eagle's Cry wishes you a happy holiday season full of fun memories with you and your loved ones!