The Eagles Cry Ranks: The Top 10 Six Flags Rollercoasters
Six Flags Great Adventure located in Jackson, New Jersey is one of the best amusement parks in the United States. Although The Six Flags Entertainment Corporation may not be as well known as parks like Disneyland or Universal Studios, it is equally impressive. In fact, there are 27 Six Flags Amusement Parks across the United States, Mexico, and Canada. The park located in New Jersey is ranked as one of the most popular Six Flags locations in America. It is home to 14 world-class rollercoasters.  The Eagle's Cry ranked the top ten coasters from worst to best…
10) The Dark Knight Coaster
This coaster is an enclosed steel ride that takes place, (you guessed it) in the DARK. It isn't necessarily a bad ride, it's just not anything special. It has six 180 degree turns, but lacks any form of "drop factor," earning it the tenth place on this list.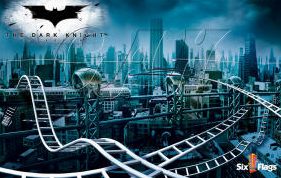 9) Harley Quinn Crazy Train
I'd categorize this particular ride as more of a "family coaster". It consists of sharp turns and a 26ft drop. The track is curvy and holds a series of small-scale hills. It is a good starting point for younger riders who may not be ready for the larger coasters.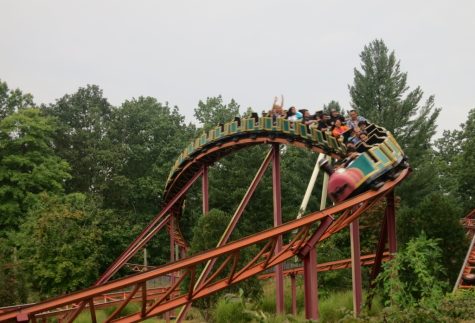 8) Skull Mountain
The thrill level of this ride is considered moderate, with a height of 40 feet and a speed of about 33 miles per hour. The ride is mostly enclosed and lasts about a minute and a half. Since the ride occurs in the dark, it's filled with fun surprises. This is another good coaster for younger riders.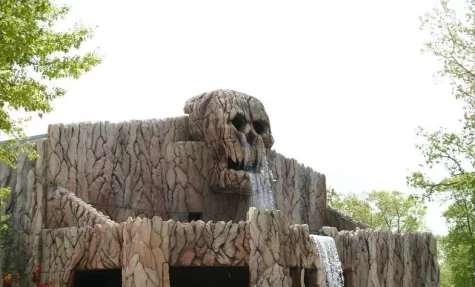 7) Green Lantern
This is New Jersey's only stand up rollercoaster. Yes, you read that right: on this ride, you aren't sitting—you're standing. The ride moves at 63 miles per hour and has a 155 foot tall hill. It consists of a variety of drops and loops, including a vertical tilted loop and inclined loop. 
Kayla Francavilla, a senior at Bethpage High School said, "My favorite ride at Six Flags is the Green Lantern. I love the shaky movement of the ride and how fast it goes. I've also never been on a ride where you have to stand."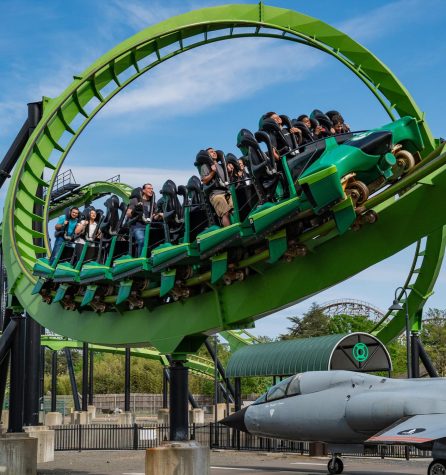 6) El Toro
El Toro is a unique wooden rollercoaster. It holds the title of Third Tallest Wooden Coaster in the world. It starts by climbing up almost 19 stories, then immediately dropping you 176 feet at 70 miles per hour, earning it an award for  "Steepest Wooden Coaster Drop" in America. The 2011 Internet Poll  and the 2017 Amusement Today's Golden Ticket Awards named it "The #1 Wooden Coaster in the World."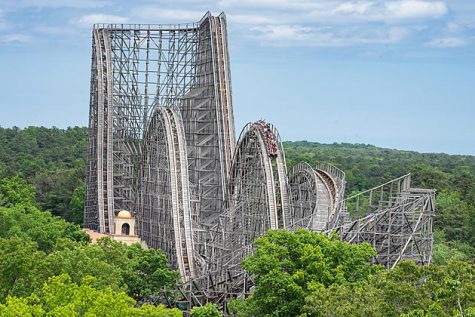 5) Batman: The Ride
Batman moves at around 50 miles per hour and reaches a height of 105 feet. This ride makes you feel like you're flying by suspending you from a track that attaches overhead, leaving your feet dangling below. It starts off with a bang by looping 360 degrees then sends you into an inverted roll and another loop a few seconds later. The ride also consists of sharp turns and corkscrew flips. On this ride, you'll endure tons of thrills while feeling like a bat, hovering over the park.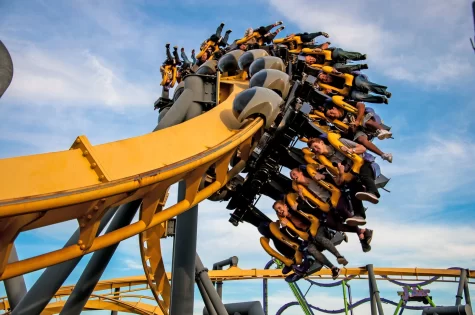 4) Superman: Ultimate Flight
On this ride, you'll feel just like Superman because it accelerates at 60 miles per hour and you ride facing the ground, head first. The ride holds a particular thrill, known as the "pretzel loop." The track curves and twists, sending you straight into a helix and 360 degree loop. With its high speeds, crazy flips, and insane twists, this ride transforms you into a real life superhero.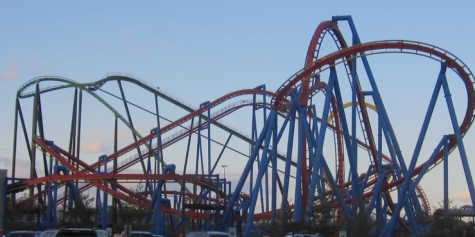 3) Nitro
Nitro soars at a remarkable speed of 80 miles per hour and has a maximum elevation of 230 feet. The height is so tall that on clear days, you can see Philadelphia from the top. All of its twists, turns, and mind-boggling drops add up to a length of 5280 feet with a ride time of about 3 minutes. The ride is known by the Six Flags Community as a "hypercoaster".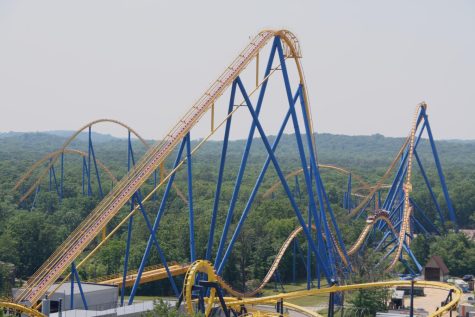 2) Medusa
Medusa was an original Six Flags ride that was replaced by the notorious coaster, Bizarro. Recently, Medusa made its grand reopening, taking back its place at Six Flags Great Adventure in July 2022. This ride will fill you with thrills as it zips through an astonishing seven flips at over 60 miles per hour. The track lasts nearly 4000 feet with fun surprises along the way including frosty mist and blazing fire.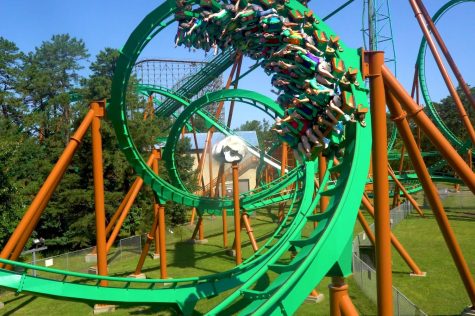 1) Kingda Ka
Finally, let's talk about the best rollercoaster at Six Flags Great Adventure, Kingda Ka. This incredible ride races at a rapid speed of 128 miles per hour and stands tall at a record breaking height of 456 feet. This ride is the fastest coaster in North America and has been named numerous times as the tallest coaster in the world. Kingda Ka was recognized by the Guinness World Records for its gravity defying U-shaped drop, which propels you straight down 45 stories in a 270 degree spiral. The terms intensity, power, and strength reach new meanings when it comes to this particular coaster. Kingda Ka really is the "King" of the rollercoaster world.