Bethpage Baseball – Life After BHS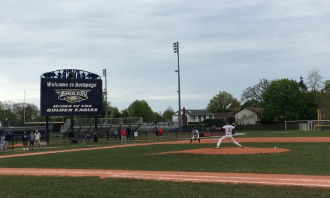 As members of the BHS community it's clear that students wonder about their future: Where do I go to college? Do I play college sports? What do I want to be? Will I get a scholarship? The unknowns about college leave many students to feel stressed and confused: everyone wonders about their future, and the Bethpage 14U baseball team is no exception. 
While talking to members of the team it became clear that unknowns are  among these underclassmen. 9th grader Justin Serio said, "I haven't thought about what college I want to go to but I do want to go away. Maybe North Carolina." 
BHS sophomore Vinny Mastrangelo said, "I don't know what I'll major in."
Lastly, Michael Macholz, a BHS sophomore said, "After college I don't know what I want to be.." 
When looking at quotes like these, it becomes clear that many wonder about their future past high school. Some may not know what college to choose, others wonder what to major in, and many will question their future jobs.  
On the contrary some have their future all planned out. Students like Max Dorazio age 14 have it all set.
Max said, "I would like to go to college at Seton Hall and play baseball. Majoring in accounting, I'll pursue a career as a finance or travel agent." 
Students like Max know exactly what they want their future to look like and they can plan accordingly. Max is not the only student on the team like this. He is joined by fellow freshman Matthew Tusa.
Matt said, "I want to go to UCONN or North-Eastern and major in computer programming. After that, I want to open a business to hire computer programmers."  
Sophomore Nick Luparello is like these two freshmen. Nick said, "I want to go to Florida State University. Play baseball there and probably major in sports medicine. Then I either want to play in the MLB or become an athletic trainer."
There are some who have holes in their future plans. There are some who know how they want their life to pan out. There is also an in-between. Jack Poppe represents that middle ground perfectly. 
Poppe stated," I don't care where I go to college. I would probably major in athletics and turn that into a career. Maybe a trainer or something similar." Jack may have some confusion in his future but he does have an outline set up.
Future is a word that sparks conversation, debates, and emotion in teens. The Bethpage Eagles 14U baseball team represents those fears. From people having major holes in their plans to people having their future set in stone there are many different emotions about futures. The real question is, How will your future pan out?