The Eagle's Cry Review: Fast Times at Ridgemont High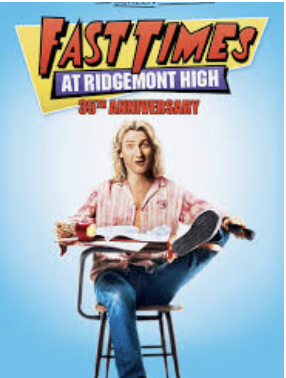 If you ask anyone what their favorite 80s teen comedies are you will often hear Ferris Bueller's Day Off and The Breakfast Club. But I haven't met anyone who's watched Fast Times at Ridgemont High and didn't enjoy their experience. Hicksville High School student Ryan Casper often refers to the movie as "the greatest movie ever." While this might be hyperbole, the movie is everything you could imagine in a teen comedy…and more. The structure of the film is unlike any other from its time. Directed by Amy Heckerling, the story follows no specific plot and instead follows the "fast" lives of Jeff Spicoli, Linda Barret, Mike Damone, Brad Hamilton, and his younger sister Stacy Hamilton. 
After the first watch of the movie it is hard to tell who the main character is, since there are so many. I'd like to believe the main character to watch is Spicoli, but as a whole, the characters share the same amount of screen time and all have their own side plots.
Fellow classmate of mine and Fast Times fan Luke Shkreli said, "The fact that Spicoli only has a few scenes in the movie makes me appreciate his comedy even more."
This is a good point Luke adds. Since we, as viewers, don't see too much of one character, we appreciate their performances even more. Less is more!
The characters in the movie all portray different people you may come across during your time at high school. One of these characters I feel like we've all met is a Brad Hamilton. During the film, he is always working, and seems to always be losing his job yet…he doesn't fail to get hired over and over again. As the story progresses, we also learn more about his personal life and how he wants to get out of his relationship with his longtime girlfriend so he can enjoy his senior year.
The movie ends abruptly as Brad Hamilton is working his new job at a convenience store when Spicoli comes in to use the bathroom. While Spicoli is in the bathroom, burglars hold up the store. Hamilton turns around, grabs hot coffee and throws it in the man's eye and takes his gun. Spicoli casually walks out of the bathroom seconds later repeating the word "Awesome." The ending scene of the film really reflects the film as a whole…showing how "fast" time is moving and changing during the lives of the students at Ridgemont High.
Sound familiar?