The Eagle's Cry Review: TIGER KING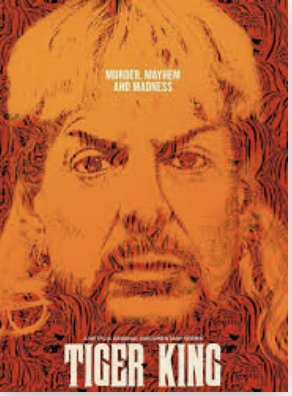 The docu-series has been a staple of Netflix's original content over the past few years, with the streaming giant churning out over 100 docu-series since 2015.  However, none have created such fervor as Tiger King.  Not only have people fixated on Joe Exotic's unique behavior, but the series created a big enough buzz for the sheriff of Hillsborough County, Florida, to reopen Don Lewis's questionable disappearance.  But does this 7 part series really live up to all its hype?
The series delves into the life of Joseph Maldonado Passage, also known as Joe Exotic.  Exotic lives in Oklahoma, and runs the GW Zoo, named after his late brother.  The docu-series paints Joe as a kind of jack-of-all-trades, highlighting not only his career as a zoo owner, but his music career, his TV show, and of course his presidential and gubernatorial bids for office.  Tiger King also focuses a great deal on Joe's personal life. His two husbands at the time, Travis Maldonado and John Finlay, play important roles on the show, as does his current husband Dillon Passage.  Arguably the greatest plot line in the show, however, is the one revolving around Joe's nemesis, Carole Baskin.
Carole Baskin, an animal rights activist and big cat enthusiast, is another character followed closely throughout the series.  She runs the Big Cat Rescue in Tampa, Florida.  While she charges entry and runs tours through her sanctuary just as Exotic, she claims that she is doing so to help these big cats and raise awareness in support of them.  She bashes other zoos like the GW Zoo for exploiting these animals, especially their cubs, for a selfish profit.  Joe Exotic says multiple times that he would like to have her killed; he shoots and blows up a mannequin that is supposed to be Baskin herself, films it, and posts it online.  Their feud is no joke, and Baskin is portrayed as a villain just as much, if not moreso, than Exotic himself.    
One of the major points brought against Baskin in this series is the mysterious disappearance of her millionaire ex-husband Don Lewis.  It is implied heavily throughout the show that she is responsible for his death, with interviews from Lewis's longtime friend and assistant, his previous wife before Baskin, and his children.  All seem to say that although the case formally went cold, they believe Baskin played a major role in his death.  His body was never found, but despite this, the predominant theory is that he was fed to her tigers.  The series has created such buzz around his death in particular, his case, which had previously gone cold, is said to be reopened.  
Exotic and Baskin's bitter feud reared its ugly head, however, when Joe paid to have Carole killed.  This murder plot, along with various animal abuse charges, landed Exotic in jail for 22 years.  Recently however, President Trump has gone on record saying he may look into Exotic's case, leading many to believe Exotic will get pardoned.  
Tiger King follows not only Exotic's zoo and his feud with Carole, but other big cat zoos in connection to Exotic.  For example, viewers get a look into the zoo of Dr. Bhagavan Antle, Joe's friend.  Antle, scandalous in his own right, is a supporter of Joe's and runs his own zoo.  Even a former drug trafficker, Mario Tabraue, is featured in the series as a friend of Antle's and a critic of Baskin's.  
All in all a very entertaining show, Tiger King is a perfect quarantine binge.  Exotic's life, while seemingly falling apart at every corner, is one that you cannot look away from.  The producers did a great job of making Joe Exotic a despicable protagonist; no matter what awful things he does or says, you can't help but feel for him and want him to succeed.  If for no other reason, watch the docu-series to understand all the memes circulating about it.