Knicks Season Preview: Excitement Awaits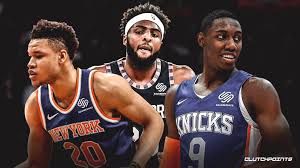 As many of you know, I wrote an article last school year surrounding the blockbuster trade of Kristaps Porzingis. I gave my thoughts, and I believed New York would have the possibility to land the #1 overall pick, and two max free agents, more than likely to be Kevin Durant and Kyrie Irving. Well, the #1 overall pick was gifted to New Orleans, and KD and Irving DID come to New York, except they chose to go to the Nets instead. Many outsiders laughed at the Knicks, but things are not bleak. 
The Knicks had a fairly successful offseason. 
Coming into the offseason with a talented young core of Kevin Knox, Mitchell Robinson, Dennis Smith Jr., Allonzo Trier, Damyean Dotson and Frank Ntilikina, they added RJ Barrett through the third pick of the draft, and signed young star Julius Randle to a 3 year contract. They also picked up young point guard Elfrid Payton, sharpshooters Wayne Ellington and Reggie Bullock, and veteran forwards Marcus Morris, Taj Gibson and Bobby Portis on two year deals with a team option after the first season. What this means is the team can be through with them after one season if they wanted to, maintaining cap flexibility for big free agent classes.  
The Knicks boasts a group of talented young players
The Knicks have one of the youngest NBA teams in the league, with an average age of 24.4, young enough for 5th in the league. Kevin Knox is coming off a rookie campaign, but showed flashes of his potential and won December Rookie of the Month. Mitchell Robinson came in last season as a rookie on limited minutes at the start and finished 2nd in the NBA in blocks per game with 2.5, which would make him first per-36 minutes with 6. Dennis Smith Jr. is a high-flying player who fixed the hitch in his jump shot this offseason, and Damyean Dotson is already a great shooter, showing his potential to heat up at any moment. Frank Ntilikina is already a top perimeter defender. Julius Randle is coming off a career where he averaged 21 points and 9 rebounds. Elfrid Payton is one of five players in NBA history to record five consecutive triple doubles. RJ Barrett was one of the top freshmen in the country last season for Duke, and averaged 22 points a game.
"RJ Barrett will turn heads this season," BHS senior Logan Paola said. "This kid is going to be one of the leading scorers for the Knicks this year."
The team has the opportunity to add another player to this next draft, with top prospects James Wiseman, Anthony Edwards and Lamelo Ball.  
They may not shock the world next year, but the New York Knicks will be a team full of highlights next season. Keep an eye out.