Clueless: Movie Review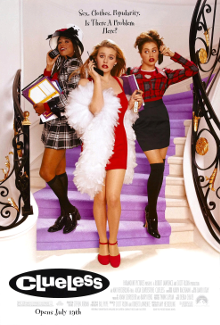 Many people think that Clueless is just like any other basic 90's movie, and while they're not wrong, there's something about it I find that I love about it every time I watch. This movie is just like the other movies of the time such as Legally Blonde, etc but there is something that stands out about it, obviously if it was such a success.
Circa 1995, Cher and her friends all go to high school in Beverly Hills, ride around in Cher's white Jeep and always try to help 'those in need,' including teachers and other students. She is the most popular girl in the school, along with her best friend Dionne and they walk around 'As if' they're the most important people in the world. The small, little comments made by the actors add life to the movie. Even sometimes when the acting isn't the best, it's purposeful and dramatic which makes the movie more realistic and comedic. The intended audience are young adults, especially aimed towards those in high school. They could definitely relate to the events occuring and will understand what's going on rather than someone who's younger and wouldn't comprehend. Some people who like that time period might find the fashion in the movie and all of the settings on pointe to that iconic era. In one of the first scenes of the movie, Cher has her closet pick out her abstract clothes every morning, this gives the viewers an idea of the type of character that Alicia Silverstone is doing a great job at portraying.
My favorite aspect of the movie are the little narrations that she makes along the movie that add humor, everything is literal until towards the end of the movie where she gets a reality check. My favorite part of the movie was when Cher argued her way into getting better grades on her report card. Since this wouldn't happen in real life, I thought it was so funny. Of course,the end is just like any other typical movie like it, with the people falling in love and living happily ever after yada yada.