Most Impactful Rap/Hip Hop Albums Of This Decade
Contrary to the popular belief of this generation of music being thoughtless and repetitive,there have been multiple stand-out projects. Here is my opinion on the best albums of the decade thus far.
10. Doris-Earl Sweatshirt
Standout tracks-  "Chum," "Sunday (feat.Frank Ocean," "Hive (feat. Casey Veggies and Vince Staples)"
After the release of the Odd Future tape, which featured Sweatshirt's standout verse on "Oldie", he released Doris in late 2013. Sweatshirt proved himself to be an outstanding lyricist and storyteller on tracks like "Chum" and "Centurion." On "Hive," Sweatshirt delivers two powerful verses while trading bars with Casey Veggies on the hook, as Long Beach native Vince Staples' laid back flow over the drum instrumental finishes the song.
9. Rodeo-Travis Scott
Standout Tracks- "Oh My Dis Side" (feat.Quavo), "Maria I'm Drunk" (feat. Young Thug and Justin Bieber), Nightcrawler (feat. Swae Lee and Chief Keef)
Most likely the best trap album of all time, Travis Scott used all of his creative expertise to create this project. However, he was not alone. His production team led by Mike Dean worked perfectly. He also had standout features, which included Kanye West, The Weeknd, Future, Juicy J and so many more. Included on this album was the hit "3500" featuring Future and 2 Chainz and "Antidote". This album is completely different than everything else on the list. Most other albums on this list had more compelling messages and lyrical substance. This album can best be described as a visit to Scott's mind, and we hope we're able to take another trip there.
8.Flower Boy-Tyler,the Creator
Standout Tracks-See You Again (feat.Kali Uchis, Pothole (feat. Jaden Smith), Who Dat Boy(feat. A$AP Rocky)
Well,if AABA was second, Flower Boy was the best album of 2017. The production on this album exceeds Tyler's previous albums by a comfortable margin. The Odd Future frontman's fourth and latest effort was supported by the singles "Who Dat Boy/911" featuring A$AP Rocky,while the second half featured Steve Lacy and Frank Ocean, "Boredom", "I Ain't Got Time!" and "See You Again" featuring Kali Uchis. His album transitioning was near perfect, along with his standout features,including Rex Orange County.
7. Long.Live.A$AP-A$AP Rocky
Standout Tracks- "Goldie","Long Live ASAP","Wild for the Night(feat. Skrillex)"
Following the success of the single "Peso", Harlem rapper Rakim Mayers, known more by A$AP Rocky, became a household name. Long.Live.A$AP, his debut album, had the perfect recipe for a modern and more stylized version of trap. With songs like the club banging "F****** Problems" featuring 2 Chainz, Kendrick Lamar and Drake, along with the phenomenal posse cut "1 Train" featuring Kendrick Lamar, Joey Bada$$ and Big K.R.I.T as just a few of the features on this song, Mayers proved he belonged in today's rap game.
6. Channel Orange- Frank Ocean
Standout Tracks- "Super Rich Kids feat. Earl Sweatshirt,"Pink Matter (feat. Andre 3000)", "Sierra Leone"
Making his second appearance on this list, Ocean's first album was nominated for a Grammy for good reason . The outstanding album, featuring fellow Odd Future member Earl Sweatshirt and singer/guitarist John Mayer, cemented Ocean at the top of relevancy after features on the  project Watch The Throne and guest appearances on the Odd Future tapes. With the solo cuts, "Crack Rock" and the almost ten minute standout "Pyramids", Ocean showcased his immense vocal range.
5.Watch the Throne-Jay Z and Kanye West
Standout Tracks- "Otis" (feat Otis Redding), "No Church in the Wild" (feat. Frank Ocean, "****** in Paris"
By far the best collaboration of the decade, Kanye West and Jay Z, two hip-hop icons at this time, came together for this project in 2011. Unfortunately, their relationship has become rocky since the time of this release, most likely meaning no music coming from them again,which just adds to the value of the project. With the strong intro track "No Church in the Wild" featuring an infectious Frank Ocean hook and the equally as strong "Why I Love You" to the international smash hit "****** in Paris", this album had the tools to be one for the ages.    
4. Good kid, m.a.a.d city- Kendrick Lamar
Standout Tracks: m.a.a.d city, Backseat Freestyle,Money Trees(feat. Jay Rock)
One of two Kendrick Lamar projects, his major label debut,released in 2012, sent shockwaves throughout the rap world. His ability to tell stories about his life growing up in the tough streets of Compton, describe his relationships with his friends and the girl he liked, Sherane. On tracks like "The Art of Peer Pressure" and "Compton", he shows his true roots to home and the stuff he grew up around,such as gang violence, peer pressure from his friends, and jumped in the streets. He used different voices and flows in order to represent different things,such as some background representing Sherane. This album was supported by the multi platinum single "Swimming Pools" and the album itself is now platinum as well.
3. Blonde- Frank Ocean
Standout Tracks- Self Control, Solo, Godspeed
Another former Odd Future member, Ocean dropped his sophomore album in 2016, four years after the Grammy nominated Channel Orange. Ocean was also one of the first rappers/ R&B of this generation to be openly gay/bisexual,despite his involvement with Odd Future, who earlier was accused of being homophobic.
He showed his standout vocal ranges on tracks like "Pink + White" and "Nikes". The song "Solo" was a special track on its own, but one upped himself by reprising the song featuring Andre 3000. This album documents struggles Ocean feels with his love life and sometimes struggling to fit in or be himself.
2. My Beautiful Dark Twisted Fantasy-Kanye West
Standout Tracks: Runaway(feat. Pusha T), Power, Gorgeous (feat. Kid Cudi and Raekwon)
Talk about starting the decade off with a bang. In late November of 2010, West released this project, two years removed from the influential 808s and Heartbreak,which brought attention to the West prodigy Kid Cudi. This album is set as a benchmark for most albums that appeared on this list, such as Good kid, m.a.a.d City and Channel Orange. With this album, those are most likely nonexistent or lacking of inspiration. Most songs you can hear everywhere, even eight years later. Especially the track "All of the Lights", which featured almost everybody you could imagine. The five minute track featured Alicia Keys, John Legend, The Dream, Elton John, Fergie, Elly Jackson, Kid Cudi and Rihanna. There is only one album that can top this album…
1.To Pimp A Butterfly- Kendrick Lamar
Standout Tracks-King Kunta, Alright,i
Now,this may come as a surprise to some, but most people who know this album and its' contents wouldn't be shocked. From start to finish, this album is phenomenal. From the jazz-inflected songs like "For Free" and "Wesley's Theory", to the hits "King Kunta" and "Alright", to the twelve minute simulated interview with the late Tupac Shakur "Mortal Man", there is nothing in the last decade that compares to the combination of lyricism, production,storytelling aspects and transitioning.
Leave a Comment
About the Writer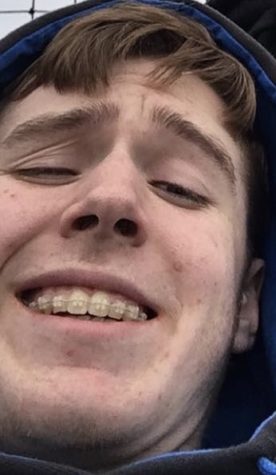 Dylan Enright, Reporter
Dylan Enright is a Senior at Bethpage High School. This is his third year taking Journalism.He is a prominent winter and spring track hurdler. His favorite...