Bethpage High School Makes Improvements to Baseball Fields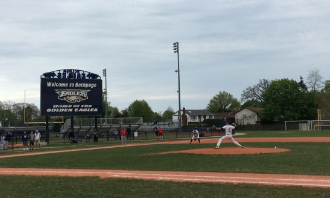 During the summer, the Bethpage High School baseball fields will be completely renovated. This plan is part of the 2018-2019 school budget.
During the Budget Hearing, the administrators showed the public about the baseball field renovation and what is going to change on the field. The current baseball fields have been here since the high school was built and there weren't any overhauls done on the fields back than.
Mr. Fisher says that "The baseball fields get muddy most of the time; we had a lot of games and practices cancelled due to the weather, and we also have some injuries on the fields."
The field renovation will include completely level fields. The new fields will not puddle up as much and the field will dry up quickly so it can be playable for the next day. The use of artificial turf will not be included in the renovation.
After the renovation is complete, the baseball coaches are "positive that the baseball fields will look a lot nicer when school starts next year, especially when we start playing baseball in the fields. It's going to be successful."