2018 Special Olympics is Coming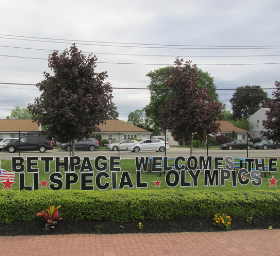 Bethpage will once again host the Special Olympics at the high school on May 19th, 2018.
Bethpage hosted the Special Olympics last year with about 600 athletes being assisted by 90 coaches and 500 volunteers. The Special Olympics last year was amazing and the Town of Oyster Bay hopes this year will be even better.
Last year, the temperature was normal and there were a couple showers near the end. This year is expected to be a little bit cooler than last year's and it is expected to have a higher chance to rain. The games will still be on as long as lightning doesn't interrupt us. Some events including the Olympic Village and Lunch are moved inside the Bethpage High School. Mr. Clark will be sending updates on what will happen on Saturday.
The Opening Ceremony will kickoff at 9:30 with teams entering from the brick walkway into the track and field. The pledge, athlete's oath, and the National Anthem will follow afterward. Mr. Terrence Clark and politicians— including Town Supervisor Joe Saladino— will be saying a few words before the torch is lighted up by two of our students  and one of the officers of the Nassau County Police Department.
After the Opening Ceremony, all the teams are moved to their game areas. The games include track and field, weightlifting, aquatics, and tennis. Lunch is served to the athletes, and everyone can get free soda bottles from the Coca-Cola tent. There will also be some sponsors showing up at the Special Olympics including Geico, Modells, and 7-Eleven.
Mr. Clark mentioned in the volunteer assembly that "we hope that the 2018 Special Olympics will be an even better one than last year."
Joe Saladino said to everyone "it was my first year as supervisor and I didn't realize how great the Special Olympics went out. We hope that it will be great."
Everyone in Bethpage and the Town of Oyster Bay hopes that the 2018 Special Olympics will be ever better than last year, as this is its last year it will be held in Bethpage. If you are interested in watching, come on down to Bethpage High School May 19th starting at 9:30 and ending at 3:00 to cheer on the athletes.