BHS Holds a Memorial for Marjory Stoneman Douglas Shooting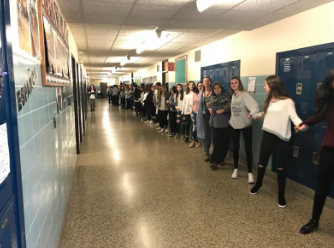 Tuesday, March 13th
Mr.Healy has just made an announcement during 4th period that tomorrow, Wednesday March 14th, at 10am, Bethpage will have a memorial for the 17 students and teachers murdered in the Marjory Stoneman Douglas school shooting on Valentine's Day. At 10, Student Council President Marco Cunha will come over the PA and talk about BHS uniting with the nation in standing with MSD. After Marco's initial speech, 17 members from the Student Government will read the names of the 17 people who tragically lost their lives. After this, students have the option to go out into the halls and link hands in arms in solidarity with the nation.
Wednesday, March 14th
The memorial went as planned, and was a great tribute to the lost lives in the shooting. Many people though did not walk out into the hallway, misinterpreting the memorial for a political protest gun laws.
Patrick Kerrigan was happy that it was only a memorial, saying "it was a very kind and respectable act by our student government and administration rather than having a walk out."
Many students also thought what we did was too minor, and think we as a school should do more for our fellow Eagles. Thoughts and prayers don't save lives, but we have no started a collection jar for a charity that helps the students and families of Parkland school district. Overall, it was good to remember those who have tragically lost their lives.