Superintendent of Schools Mr. Clark to Retire at the Conclusion of 2017-18 School Year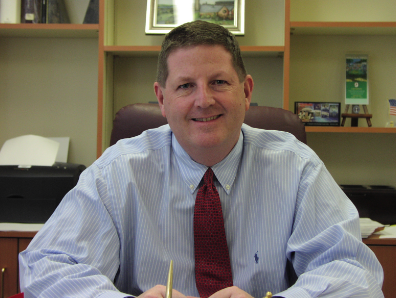 Mr. Terrence Clark, 57, superintendent of schools in the Bethpage Union Free School District announced on October 2nd, 2017 that he will be retiring from the Bethpage school district, effective at the end of the 2017-2018 school year. He's been the superintendent of schools for nine years and has been working for 32 years in our school district.
Mr. Clark has played a significant role in the educational development of our district. Prior to being the superintendent of schools, Mr. Clark began his tenure at BHS as a social studies teacher in 1986. Because of his interest in history and technology, he became the supervisor of social studies and technology, director of technology, and eventually the assistant superintendent for instruction and technology.
Mr. Clark said, "I consider myself the luckiest guy in the world to be hired by the Bethpage school district 32 years ago. It's been a pleasure working in the Bethpage school district…it has been my home for 32 years."
Mr. Clark created a bevy of programs in our school district. When Mr. Clark was a social studies teacher, he founded the Student Civic Association as well as the first senior citizen prom. As technology became more advanced over the years, Bethpage became one of the first schools to have connections with the internet. In addition, Mr. Clark created the online 21st Century Scholars program with the help from a lot of teachers.
Throughout his years in the school district, Mr. Clark has received numerous awards. He received the National Teaching Award, the Kiwanis Everyday Hero Award, the Nassau BOCES Partner in Education Award, the Administrator of the Year Award from the Nassau Library System, the Innovative Educator of the Year Award from Phi Delta Kappa, the Innovative Administrator of the Year Award from InterCounty Teachers' Center, the PTA Distinguished Service Award, and the John Masino Award from the Bethpage American Legion.
"I am looking forward for retirement, but I'll miss Bethpage because it's been my home for 32 years, I had great times here," Mr Clark said. "I hope to stay involved with the Bethpage School District and the Bethpage Educational Foundation."
At a business meeting on October 24th, the Board of Education unanimously announced our current assistant superintendent for curriculum, Mr. David Schneider, as the next superintendent of schools. He will replace Mr. Clark on July 1st, 2018 and will be the superintendent of schools starting for the 2018-2019 school year.
"I'm honored that the Board of Education felt that I'm the right person for the position." Mr. Schneider said. "I'm fully informed by Mr. Clark, and thankful for all he's done for me and for preparing me for this role. I look forward to helping this district continue the tradition of excellence."