Student Spotlight: Samantha D'Aponte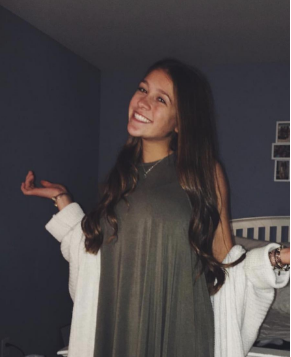 Every grade contains those handful of students who are like celebrities. Their actions get recognition and praise throughout the school, and everybody knows their name. But what about the kids who are underappreciated? Bethpage High School consists of several incomparable students who don't get recognized for their impeccable work. One of those students is Samantha D'Aponte.
Samantha is a junior who has an admirable work ethic and personality. According to some of her friends, "She's responsible, mature, and trustworthy."
She is part of Girls Varsity Volleyball and Lacrosse, and also a member of Marine Fitness. While managing her time between sports and friends, Samantha is also an Honors Student.
"Sometimes I find that it's difficult to manage my time, but in the end it's worth it because when I'm in college and have to manage a workload, I'll be able to get everything done in a timely fashion," says Samantha. She is a hard-working teammate, and classmate.
At the beginning of her junior year, Samantha was named Vice President of Human Resources for her Virtual Enterprise class.
"It's great experience and it will help in the future and real world, and it's the only class where I actually get to learn useful things." Samantha takes great pride in her position and loves being the leader of her department. She's become so fond of the course that she wants to convince Mr. Spence into making Virtual Enterprise a two-year course.
All the things Samantha's friends have to say about her are positive. No matter what problem you're facing, she always has accomodating advice and will do whatever she can to guide you in the right direction.
"She knows how to handle obstacles in life." You should never underestimate Samantha because all she wants to do is work hard, and strive to become better.
Whether it's in the halls, or on a playing field, you should take a few seconds of your day to acknowledge Samantha. You'll realize how easy, and enjoyable it is talking to her, and how great of a friend she is.