Student Spotlight: Erica Marciante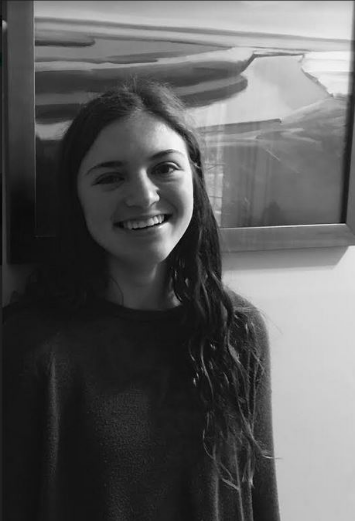 What do you call someone who constantly makes puns? Erica Marciante. She is a sophomore at BHS and stands out from the rest with her personality and work ethic. Also known as Erica Marci-Iced Tea, Erica is the perfect example of a driven student, philosopher, and comedian.
If you ever get the chance to talk with Erica, it is guaranteed that you will experience one or more of her famous puns. You might even be wondering if this is a natural talent or just the result of years of experience. Here's the answer, straight from Erica:
"I was born with a decent amount of creativity, but I had to practice it by utilizing my imagination through writing and reading which only helped my pun development to grow."
Erica is known for her puns—just ask fellow sophomore Heather Nunez. "Erica is great at what she is known for." The following is an actual part of our conversation.
Erica: "Hey Mia- ask me to tell you a pun about the sky."
Mia: "Tell me a pun about the sky."
Erica: "Wow, that was out of the blue."
Writing and reading have always been important to Erica. Not many people know that Erica is a children's book author in the making. She enjoys writing stories that have funny characters and plots while teaching important morals. She has completed a couple of stories, but has numerous ideas that might soon come to life. One book in particular has a lot of potential: titled "One Lucky Duck." Erica gives a brief preview of this book: she explains, "it's about a duck named Puck who doesn't have a lot of bucks— it's like a whole thing." You will likely find one of her bestselling books in a bookstore in the near future.
If you look in a record book, you can find Erica's name under "Most Flashcards Made In One Year." She goes above and beyond when it comes to studying. On top of the daily review of her notes, Erica creates hundreds of flashcards on her StudyStack account. She creates a "stack" of flashcards for almost every quiz or test. Read this next sentence and you will understand the extent to which she goes when it comes to studying. "My record is over 300 flashcards for one test. It was for the [8th grade] Social Studies Final, but there was only 100 questions on the final. Thanks Mr. Brace…" Erica is above average when it comes to her study routines- and it shows with her exceptional grades. Erica is enrolled in the AP World, Honors Algebra II, and Honors Chemistry classes. She has important advice for future students attending BHS and taking AP classes. "3 things: 1.StudyStack account-mandatory- or Quizlet, but that's the inferior option. 2. Do not procrastinate- it is a dark and endless abyss that you will fall into the minute you say 'I'd rather do this later.' 3. Push yourself. We often underestimate what we're capable of, and it's nice to prove even yourself wrong sometimes."
You will probably find Erica participating in Philosophy Club and Ethics team after school. She enjoys arguing for her opinion and learning ethical principles. She often is seen applying these ethical laws to everyday situations. She has seen many different (and sometimes strange) cases in her experience with the Ethics team. Her response when asked about her favorite Ethics case: "Can I talk about the girl who poured drain cleaner in her eye or is that too graphic?"
Erica absolutely loves her dog named Jake. Each day, she talks about what Jake ate the previous day (that wasn't dog food). Erica describes her dog as a "helpless case, but [her family] loves him anyway". Erica does not only love her dog in particular- she loves them in general. She can name countless types of dogs on the spot and loves seeing any type of dog on a given day.
On the whole, Erica excels in everything she does. If you ever need a laugh, just talk to her.