Student Spotlight: Dani Guarasci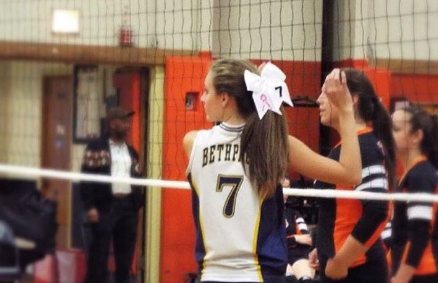 There's a senior named Danielle Guarasci, better known just as "Dani," that many know, but few seem to truly recognize.
It's hard to deny: Dani is a very likeable individual, and you may already have sensed her friendly demeanor if you've passed her in the halls.
With her strong family values, Dani strives to set a good example for her younger siblings Jessie and Anthony. As the oldest, she never fails to lend a helping hand around the house and do what she can to assist her parents, who she greatly appreciates.
"My parents are always believing in me that I can do great things, which is why they push me to try things I might be nervous to do," Dani said.
Dani is also very thankful for her friends who she claims know her better than she knows herself. She enjoys hanging out with them whenever she can. While Dani may not be the initial name you think of when asked to name a "star student" in Bethpage, she should be.
Behind her happy-go-lucky personality, Dani is a very hard worker, who has big plans ahead of her. Taking challenging classes such as AP Bio, she spends a significant amount of her time studying and preparing her best for exams.
"I try so hard because I want to be the best I know I can be," Dani explained. "I want to get the best learning experience for my future career."
Having a passion for helping people, Dani hopes to be a nurse practitioner in the future.
"I want to be able to make people feel better whether it is physically, or mentally," she said. "Everyone deserves to live their best life."
Aside from academics, Dani manages a busy schedule of clubs and sports, such as volleyball, which she hopes to continue in college.
Dani is a shining example of a diligent student that deserves much recognition in Bethpage High School. She is enthusiastic to help other students, and stresses to them to "never be afraid to try something."
"If you are scared to fail, you will never discover your true capabilities," she says. "Face your fears because one day, you may surprise yourself."