Humans of Bethpage #4- Patrick Kerrigan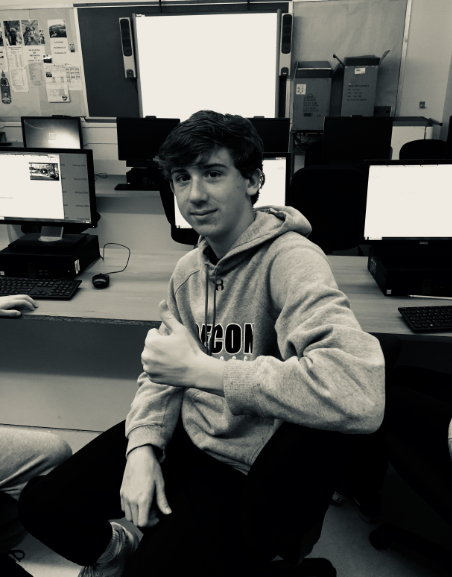 The Eagle's Cry: If you could change one thing about Bethpage High School, what would it be?
Patrick: I would change the way we spend our money- I say maybe more than half the students don't want chromebooks, and chromebooks cost a lot of money. With that money we could probably do other things that are more important: better food, air conditioning in every room- we could set up a central air system. Also we're spending like $400,000 on a wrestling room…
The Eagle's Cry: What's the best part of your school day?
Patrick: I like lunch because I can see my friends and socialize.
Humans of Bethpage:
In the summer of 2010, photographer Brandon Stanton set out to photograph 10,000 New Yorkers and plot their photos on a map. After a few months, Stanton's project began to take a different course as he started gathering personal quotes, stories, and sentiments from his subjects. These photographs and captions evolved into Humans of New York (HONY), a blog with over eight million social media followers across the globe.
Stanton's blog captures the vibrant diversity of New York City by telling stories both haunting and uplifting, extraordinary and commonplace. HONY provides an accurate representation of the city's population by including subjects of every race, ethnicity, gender, and age. Stanton prompts his subjects to open up about their relationships, careers, childhoods, and future goals, divulging unique anecdotes and personal philosophies.
The Eagle's Cry newspaper has undertaken a similar project: a blog documenting the daily lives of students at Bethpage High School. Humans of Bethpage High School will emphasize the unique experiences of Bethpage students as they sit in class, roam the halls (between classes, of course), or participate in school events. Student journalists aim to capture the extraordinary friends, teachers, and classmates in their lives through photography and interviews. We encourage students to take this opportunity to showcase their talents, share their ideas, and make their voices heard.
The Eagle's Cry newspaper staff hopes that this project will highlight the contributions of Bethpage students as individuals and bring us closer together as a community.