Can JV Football Go Undefeated?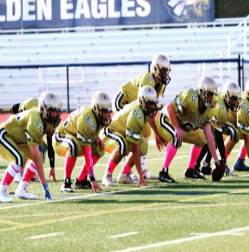 It's not often that a JV team gets much coverage, but being this close to going undefeated through an intimidating gauntlet of teams deserves some praise. They are now 6-0 after Island Trees (0-6) forfeited due to many injuries and the alarming prospect of facing our beast of a team. With the terrifying offense being lead by sophomores Kevin Mouton (Quarterback, 5 TDs), Cristian Castles (HB, 14 TDs), and JP Conway (RB, 4 Tds), and the vaunted defense being lead by sophomores Dom Zizzo (DT, 3.5 sacks, 17 tackles), Nick Harper (MLB, 3 sacks, 14 tackles), and freshman Pat Dalton (CB, 3 interceptions), they statistically have a very good chance to go undefeated.
The team will play Plainedge next Saturday, and Roosevelt the Saturday after that. Should they win those tough two games, they will finish the season with an amazing 8-0: an undefeated record. Many of the boys on the team are extremely confident that they will end the season with a perfect record; "Oh yeah we are going undefeated!" was a common response from the team.
The team is very excited to be an inch away from perfection. Their record and homecoming is all they talk about. Even injured players like Timmy Remsen brag about their team's amazing record. Sophomore Nick Harper says, "This group works amazingly together. We went undefeated in 8th grade with them, we're going undefeated this year, and we will go undefeated in our senior year." A bold statement, but one that could prove true. This group of freshman and sophomores have always dominated, and will hopefully continue to be dominant for the rest of their high school careers. In their minds and in the minds of many, JV Football can most certainly finish this season without taking a single loss.