Who Will Win The Stanley Cup?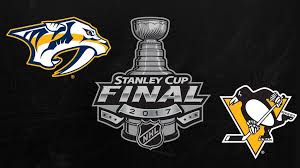 Who do you have winning the cup? The exuberant Nashville Predators or the experienced Pittsburgh Penguins? Both teams have the skills needed to win the greatest trophy in all of sports, along with elite players ready to push their team the rest of the way. With game 4 behind us the series is tied 2-2. So far, each team has dominated in their own arena. Considering the penguins have the home-ice advantage, if these home wins continue the penguins will win the cup in seven games. If the Predators want to win the cup they will have to win at least one game in front of a wild Pittsburgh crowd.
P. K. Subban said the predators will win game three, and sure enough, his statement held true. A little play out of Mark Messier's book—risky, yet enticing. Messier was the 1994 New York Rangers captain who promised his team they would win game six against the favored New Jersey Devils, and then went on to score a hat trick and win the game.
Regardless of any psychic predictions, it will all come down to the player's performance on the ice. Can Nashville's lockdown defense led by Roman Josi and P. K. Subban shut down the unstoppable Pittsburgh offense led by Sidney Crosby and Evgeni Malkin. An unstoppable force has met an immovable wall.