Bethpage Hockey Looks to the Future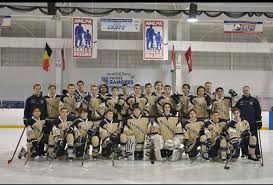 With hopes high for the 2017-2018 season, especially after a quite impressive season this year, the The Bethpage Eagles Varsity ice hockey team is ready to compete at the high level they accomplished this past year. The team is entering the offseason coming off a long season, complete with a trip to the playoffs and the state tournament.
The eagles began the season in first place and, after a small slump, finished in fourth—enough to earn a spot in the playoffs and the New York State Tournament. Although the postseason was not as successful as the regular season—eliminated from the playoffs by Long Beach and failing to win a game in the state tournament—the eagles still felt it was an honor to make it to the postseason, as four other teams missed the opportunity.
Unfortunately, the Eagles with have to say goodbye to seven seniors—Captain Leo Karapetyan, Zach Zapata, Michael and Greg Barelli, Sean Frers, Bobby Murtha, Jake Giacopelli, and Trevor Buffalino—all of whom will be missed greatly as they accounted for an exceptional amount of offense and defense. The Eagles also lost two seniors, Chris Powers and Jason Francavilla, at the beginning of the season due to school and family issues. The eagles coach, Jeff Schmier explained, "Of course I'm going to miss the seniors and I know they are all going on to greater things with college and all, but that doesn't mean I'm not optimistic for next year. I expect just as much success this year as last year. We have some good kids coming up and I'm ready to win." Hopefully the juniors and sophomores can fill the gap left behind by the seniors as the new freshmen come in to finish off the team.
The Eagle's primary goal for next season is to finish third or higher in the standings—securing them a spot in the playoffs and the state tournament, as well as a chance at playing in the supervisors cup (a game between the third place teams from both divisions), which the Eagles took part in during the 2015-2016 season—losing 1-0 to Locust Valley/North Shore. "I hope we achieve everything we did last year, the playoffs and states and all that, but obviously I want a better outcome," current junior Bobby Murtha explained. Hoping to make the team more "elite", Coach Schmier has decided the team will have someone record the games and the Eagles will have watch sessions during the week. The team is also getting new warm up gear and will start doing off-ice training more often.
Ultimately the Bethpage Eagles are ready to enjoy a victorious season next year.