Bethpage vs Massapequa 01/11/17 Post-Game Report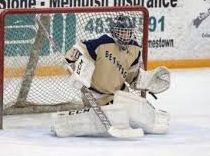 Seven seconds left on the clock—the Eagles playoff hopes slowly drifting away as each second ticked off—now four, three, two…
Everyone knew the battle against Massapequa would not be easy, yet the pressure intensified even more as Bethpage Varsity Hockey coach Jeff Schmier explained the importance of the game to his team. All heads down listening carefully, "You guys have to win this game, a tie or a loss and you're out." After a long ten minutes, the buzzer sounded and the Eagles took the ice, examining their enemy across center ice—the chiefs.
Massapequa drew first blood, taking an early 1-0 lead only one minute into the game. The Eagles fought hard, trying strike back, but the Massapequa goaltender stood strong stopping every shot he faced in the first period. A too-many-men on the ice penalty late in the first period left the Eagles down a man and led to Massapequa taking a 2-0 lead early in the second period. Once again the Eagles fought back, as captain Gavin Hulser scored two quick goals to tie the game. Soon after, the chiefs took a double minor (four minute) penalty, opening the door for the Eagles. Unfortunately Massapequa slammed that door in the Eagles' faces—scoring a shorthanded goal to take a 3-2 lead late in the second period.
The Eagles slowly took the ice in front of their coach to listen to the usual between-period speech. After talking to a few players individually, coach Schmier jumped up on the bench, standing tall above his team. "This is it guys," the three-year head coach screamed, "This is your period!" Captain Gavin Hulser led the Eagles Chant and Bethpage took the ice for the final period—everything on the line.
The time seemed to run twice as fast for the final period, as all of a sudden the tired, beaten Eagles gloomily stared at the clock—two minutes remaining. However, a spark of inspiration hit, as freshman Derek Zacchino scored, tying the game at 3-3. "A tie is not enough!" coach Schmier yelled up and down the bench. The Eagles burst into action firing shot after shot at the Chief's goalie until he managed to cover the puck with 13.4 seconds remaining. After a quick breather, the Eagles lined up at the faceoff circle deep in the Massapequa zone.
The puck dropped and Hulser released a backhand shot, missing the net and trickling into the corner. Seven seconds left. The Eagles' captain did not give up, chasing the puck into the corner and blindly throwing it back towards the net. Five seconds. The puck slowly slid through the clashing bodies in front of the net before drifting out to open ice. Four, three, two… a blast off of Junior Defenseman Kevin Drucker's stick—the sight of the puck striking the back of the net sending the Bethpage crowd wild. They had pulled off a miracle.
Cheerful sounds echoed from the Eagles' locker room, while coach Schmier had one more thing to say, "Now that's a hockey game!"