Seniors Ready to Vote in the 2016 Presidential Election
As the 2016 election season looms, Republican and Democratic candidates vie for the support of the American voting-age population. Due to the timing of Election Day this November, most of Bethpage High School's 2016 class will be eligible to register and vote for the 45th President of the United States.
But first, primary and caucus elections must be held in all fifty states. These elections determine how many delegates each nominee will receive from each state at the party's national convention. A delegate pledges to vote for the candidate his or her constituents chose during his or her state's primary election/caucus. The nominee who receives the most delegates at the national convention wins the nomination. New York's primary will be held on March 26th, 2016.
New York holds closed primaries, meaning only registered Republicans can vote in the Republican primary and only Democrats can participate in the Democratic primary.
"I think I'll register for the Democratic party," said senior Anthony Regateiro. "I feel pretty excited about voting in the primary because it'll be the first time my voice can be heard in politics."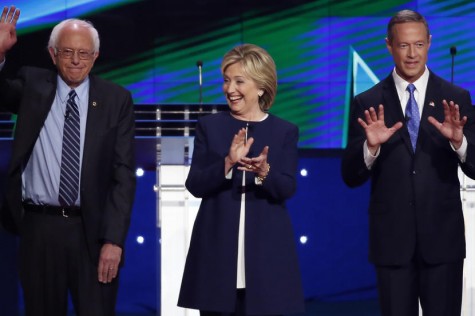 Prior to voting, you should research the nominees, whether you are a registered Republican or Democrat. With a total of 12 Republican candidates and three Democratic candidates still running for the nomination, the decision certainly can be difficult if you do not already have a preference.
In the Republican party, a big fight is underway between frontrunners Donald Trump, the business magnate, Marco Rubio, the Florida senator, and Ted Cruz, the Texas senator. Other contenders lag not far behind: neurosurgeon Ben Carson, former governor of Florida Jeb Bush, and New Jersey governor Chris Christie.  
"Donald Trump isn't afraid to reveal his true thoughts about people, unlike every other politician," said senior Matt Heym. "[That] is what this country needs."
In the Democratic party, it is becoming a closer contest than expected between former first lady and ex-secretary of state Hillary Clinton—the initial heavy favorite for the nomination—and Bernie Sanders, the Vermont senator. Former Maryland governor Martin O'Malley is also still running, but he is trailing by a large margin.
"As a Democratic candidate, Bernie [Sanders] embodies the progressive thought the country truly needs right now; both economically and politically," said senior Gina Aliberti.
Being able to have your voice heard in the nation's largest election is a very empowering thing. Those of us who will be old enough to vote certainly should, for "every vote counts," and our opinions could affect the future of the United States.