BHS Goes Country? (Maybe for a Night)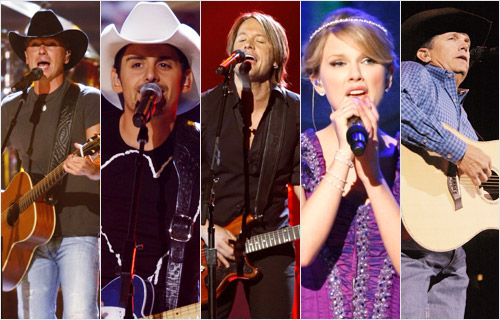 On November 4, 2015, the 49th annual Country Music Awards took place in Nashville, Tennessee, hosted by Brad Paisley and Carrie Underwood for the eighth year in a row. Many talented country music artists attended this show, from the king himself, George Strait, Garth Brooks, Reba McEntire, and now, the newer generation of country artists like Luke Bryan, Sam Hunt and Lady Antebellum. All of these artists and groups are extremely talented and have different country music styles that make this genre of music exceptional. BHS students took note.
Laura Russo claimed that, "Country is not my first choice in music, but I'll listen to it if I have to."
However, Ryan Mercer said, "I prefer country over anything else. There is nothing I'd rather listen to."
The first award of the night was the Musician of the Year. This was awarded to Mac McAnally. Mac, an Alabama native, won his eighth consecutive Musician of the Year award.
The Music Video of the Year award was announced next, going to Maddie & Tae for their music video "Girl in a Country Song." Maddie & Tae are fairly new country artists and have become successful very quickly.
The Musical Event of the Year award was given to Keith Urban featuring Eric Church for their song "Raise 'Em Up". This song was written for a charity event and all proceeds were donated to a charity of their choice. Keith Urban is an Australian country music artist. Eric Church is an American country singer from North Carolina. The two artists create exceptional music with endless passion in every song.
Song of the Year went to the group Little Big Town's song "Girl Crush." They also won Vocal Group of the Year and Single of the Year also went to Little Big Town for their song "Girl Crush." Little Big Town is a group consisting of two married couples who have been friends for 10+ years. They are a very talented group, and they create very catchy songs you can't help but sing along to.
Album of the Year was awarded to Chris Stapleton for his album Traveller. Stapleton, a Kentucky native and bluegrass musician. He also won  New Artist of the Year and Male Vocalist of the Year.
Vocal duo of the Year was Given to Brian Kelley and Tyler Hubbard of Florida Georgia Line.
Female Vocalist of the Year was awarded to Miranda Lambert. Miranda, a Texas native started out her musical career with a all girls group called the Pistol Annies; however, that didn't last long, as they all decided to pursue music as individual artists.
The biggest award of the night was Entertainer of the Year. This was given to Luke Bryan. Luke just came off of his Kick the Dust Up tour honoring his new album Kill the Lights. Bryan is now a 4 time CMA Award winner. All together he has won 29 awards for his music, performances and vocal ability.
Although it's not big here, Country music is a worthy genre that's catching on fast.  Get into it, BHS!