S.A.D.D. Club Returns to Charles Campagne to Fight Bullies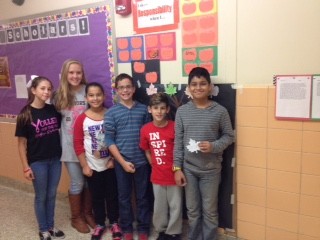 S.A.D.D. Club, also known as Students Against Destructive Decisions, returned to the classrooms of elementary schoolers this month.
October is anti-bullying month, where we all come together to preach the extreme negatives of bullying and the effects a bully inflicts on her victims. Every year the S.A.D.D. club grows and we take trips to the three elementary schools in our district.
On these trips we take around a half hour to forty five minutes to talk to the kids about important topics that begin to present themselves at a young age. We speak about bullying, upstanders, bystanders, red ribbon week, empathy and sympathy, and many more.
Julia Hardy felt "excited" to return to the elementary schoolers, as it is "one of the highlights" of all of her years here in S.A.D.D. club.
This month we focused on bullying during our trip. We had the kids provide definitions of "bullies," "upstanders," and "bystanders." After hearing what they had to say we asked if they are upstanders. Simply put, they unanimously said "yes" and started to applaud. Then we asked, "Since you are all upstanders, would you want a superpower to help the victims of bullies?"  Again, it was a unanimous yes. We followed with, "What superpower would you want?  Remember it needs to be used to help people," the answers that followed varied from flying, super speed, time travel, invisibility, to even creating a "snowstorm because snow makes people happy and the bully would stop hurting the victim to build a snowman and everyone would be happy."  I guess there's a first time to hear everything…
Amanda Hartwig is a freshman here at BHS and a new enrollee in S.A.D.D. club. She said, "I love being in S.A.D.D. club because I feel safe when I am there. I feel better doing the club because it is nice to know I'm helping people."
S.A.D.D. is such a great club to get involved in. Everyone is so welcoming and we work to our greatest potential to make a difference in the lives of everyone we meet. Not only do we teach elementary schoolers, but we go to a soup kitchen annually, we get involved in "Adopt-a-Family" every holiday season, a charity fashion show was created last year that we also got the ability to be involved in here at BHS.
If you're looking to build up your resumé and do great things over your high school years, then S.A.D.D. is for you. To sign up just go and see Mrs. Kennedy in guidance.  We are always looking for new members.