The Eagle's Cry Book Review for September: SHATTER ME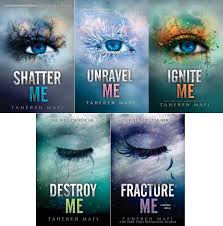 My name is Rebecca, and it's my first year reporting for The Eagle's Cry. I've always enjoyed book reviews, since they suggest the best books out there. I plan to write reviews this year that inform you of the best of what's out there. I hope you find them helpful in discovering something new and intriguing. Well, here goes:
My first review concerns the first book in the Shatter Me series—appropriately titled Shatter Me—by Tahereh Mafi.
The last time Juliette touched someone was an accident. Now, she has not touched anyone is 264 days. 264 days spent locked up, because "The Reestablishment" thought she was a murderer. The Reestablishment, who was supposed to help the world. After 264 days alone, The Reestablishment decides they will use Juliette to their advantage. But Juliette does not want to kill anyone else, so she has to make the decision to either be a weapon or a warrior.
The author, Tahereh Mafi, sparks a new world and gripping scenes that make it difficult to put this book down. The descriptions in this book make it very interesting to read, especially with the use of metaphorical language to enhance scenes. One of my favorites: "Hope is a pocket of possibility. I'm holding it in my hand," expresses the connection between objects and the characters' feelings.
Everything flows together well and is fascinating to read. I fell in love with this book within the first few pages. With her unique writing style, incorporating strikeouts and repetition to convey Juliette's thoughts and feelings, Mafi keeps you thinking about the Shatter Me series well beyond the final book. Each character seems so real, and readers sense his or her personality from the moment you meet him or her.
For fans of dystopian novels, such as The Hunger Games and Divergent, reading Shatter Me is a must.