Boys' Varsity Soccer Looks Forward to Big Wins in the Fall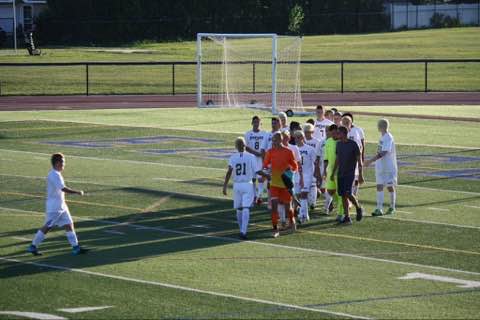 Bethpage Boys' Varsity Soccer has high hopes of winning the conference this year as the team moves to 2-1-1 on the season after a 1-0 win Thursday against Valley Stream North. The match  was well-played on both sides of the ball, the only difference being a goal scored by Senior Jose Garces early in the second half.
Team chemistry is a big part of soccer, and a team with good chemistry combined with skill will be successful—while a team that has some skill but no chemistry will find only failure.
"This team is probably as talented as any team I've ever had," said Coach Steven Franzke. "There are players up and down this lineup that are excellent soccer players. With a team like this, success is knocking on the front door of Bethpage."
A lot of hard work was put in this preseason to help prepare. Tons of rigorous practices, and important fitness training was the norm, consisting of running anywhere from a quarter of a mile to a full two miles. Being able to accomplish this run and remain in almost perfect physical condition is essential. Players need to build up their stamina and increase fitness levels in order to remain in the games.
"Coming out of preseason I feel good about the team, and hopefully they feel the same way," said Coach Franzke.
A soccer team's character is an important to maintain in a positive manner. The team has plenty of character that represents each individual player, as well as the team as one.
"While it's always great to coach skilled players, I value the character of the team even more and luckily this team has both great character and skill," he said.
Over the course of a season, players have their hot streaks and their cold streaks, but no one player is any hotter than Frank Iacovano. Coach Franzke attributed this to the fitness level with which Frank came into preseason and the work ethic he shows every day.
"This is Frank's first season on varsity, and he's been playing extremely well.  I have moved him around to several positions, and he seems to thrive no matter what is asked of him," Coach Franzke said.
With one of the younger teams in the league, physical size is a major issue. Many of the players on the 2015 Golden Eagles are smaller than average, but they make up for it in skill.
"No matter the sport, a coach will always try to cater the playing style to the strengths of the team, and that's exactly what I've been trying to do with our group. I've tried to encourage a possession style of attack, and defensively, we have been working on playing as a unit," said Coach Franzke. The starting lineup is often crafted based on the opponent or the field they're playing on.
While wins and losses certainly can't be predicted, it is important to work hard and do their best to improve each day to reach that goal of being county champions.
With that in mind, according to Coach Franzke, having a winning season isn't important. "It's coming out better people and that's really what it is all about."