Mets Clinch NL East: Bethpage Reacts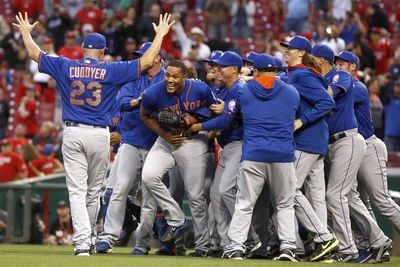 At last, Mets fans can breathe a sigh of relief, for their team has finally claimed a spot in the postseason for the first time in almost a decade after a 10-2 win over the Cincinnati Reds on Saturday, September 27th. The anticipation of this event has been building ever since the Mets pulled away from the rival Washington Nationals after a very successful trade deadline. Mets fans have prayed there would not be a repeat of the 2007 and 2008 season "collapses," in which the Mets blew their leads over the last few weeks of the season.
Needless to say, the halls of BHS are abuzz.
"World Series contenders 2015," said senior Ali Khambati about the Mets," It's going to be Mets/Yankees for the title."
However, there are also those who do not see the Mets' divisional pennant in a positive way.
"They are not going to last long in the postseason," said senior and avid Yankee fan Ryan Mercer. "If they even make it past the National League Divisional Series, they will be knocked out in the National League championship series by the Cardinals."
The win came from a solid Matt Harvey performance; Harvey pitched 6 ⅔ innings with nine hits, two earned runs, and six strikeouts all in 97 pitches.
Scoring began early on for the Mets, for Lucas Duda cleared the bases in the first inning with a grand slam off of Reds starter John Lamb. In the innings to follow, Curtis Granderson hit a solo home run, Michael Cuddyer knocked in two runs with a double, and David Wright blasted a three-run homer to left-center field to bring the Mets to a 10-2 lead.
Closer Jeurys Familia, arguably the most valuable player all year for the Mets, sealed the deal in the ninth with a two-hit, scoreless inning to bring the Mets to the postseason.