Grooveshark is NO MORE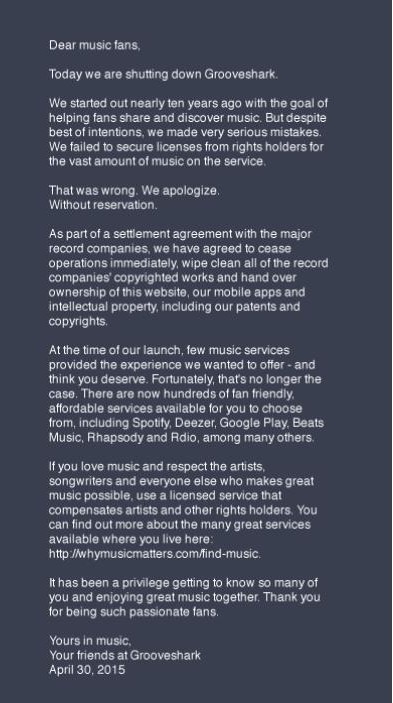 It was early on May 1st, 2015 when I had arrived to Journalism first period. I was about to start my daily goals and continue writing an article from the previous day. Although, first I always plug in my headphones into the computer and push each bud into the correct ear. Music is always my first priority before I write; it's the quickest way to get into the zone, find the inspiration. It's my muse. The brick walls of BHS confine not only students and staff, but the internet as well. We could once turn to beloved Grooveshark for all our pirated music needs. Sadly, this is no longer the case.
It was the perfect website, with every song imaginable, the ability for you to make a playlist, and featured new music to open listeners' minds to genres and artists they would have otherwise missed out on.
On that fateful May morning, after typing in the URL box, Grooveshark, to my surprise, did not pop up to the homepage, nor did the plethora of illegally streamed music. A sad and sorry message appeared instead. I've listened to music on Grooveshark for as long as I can remember, back through all my public school years…
R.I.P
Thank you for a decade of good vibes.
www.Grooveshark.com
2005-2015